Configuration – 2 way 2 driver system
Cabinet material – Glass reinforced Soric-cored sandwich composite
Cabinet colour – Piano, Pearl, Oyster Matte
Bespoke cabinet colour – Bespoke colour options available on request
Drive units – HF: D26 – 26mm tapered tube loaded alloy dome. LF: C125D – 1 x 125mm alloy cone
Bass – Loading Exponentially tapered tube enhanced bass reflex
Sensitivity – 85dB 2.83VRMS/1m
Nominal impedance – 8 Ohm (7.5 Ohm Min)
Frequency range – (Hz) 40Hz- 25kHz (-6dB)
First D26 break-up mode 44kHz
Harmonic distortion – <0.5% over frequency range (2nd and 3rd harmonics)
Crossover frequency – (Hz) 3.0kHz
Recommended amplifier power – 25W- 125W
Loudspeaker dimensions – 1160(h) x 263(w) x 340(d) mm MASS 24kg
Shipping dimensions – 1245(l) x 680(w) x 450(h) mm MASS 60kg (pair)
KAYA 25
Designed for smaller spaces, KAYA 25 delivers a fine-detailed, transparent sound on a scale that belies its compact dimensions. Drawing visual inspiration from our bestselling OVAL range, and sharing technology with our all-conquering GIYA loudspeakers, KAYA 25 is the most accessible way to bring the transformative Vivid Audio approach to the music you love the most.
A new listening experience
The KAYA 25 is a two-way speaker, with the alloy-coned C125D drive unit handling both bass and mid frequencies. Adopting a technology previously used only in our GIYA bass drivers, the driver is fitted with a radial rare-earth magnet, which ensures clean, transparent sound right to the top of its range. The laws of physics (which we're bound to obey) dictate that at the upper end of the frequency range, the sound becomes more focused and directional.
To match this, the D26 tweeter is mounted in a shallow waveguide, ensuring that the sound field remains completely seamless. The effect is a compelling listening experience that holds your attention and draws you into the music: perfect for more concentrated listening, and enjoying music with nuance, depth and complexity.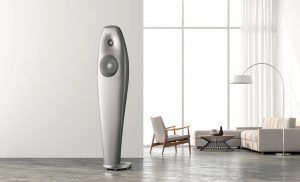 A slimline profile with hidden depths
Although it's a two-way system, KAYA 25 still benefits from the same patented Tapered Tube bass loading you'll find in the larger members of the KAYA family, as well as our more technically complex GIYA loudspeakers. The difference is that in KAYA 25, the exponential absorber horn is cleverly concealed in the stand. This gives the loudspeaker a slim, unobtrusive outline that finds its place effortlessly in almost any setting: indeed, the name KAYA is the Zulu word for 'home'.
A welcome addition to the family
If the profile of KAYA 25 seems familiar, it may be because it recalls our bestselling OVAL B1 Decade. We'd always had it in mind to try wrapping the absorber horn into the OVAL stand, as it seemed such a logical development: with KAYA 25, we've finally done it – and it works as beautifully as we suspected it would. The result is bass reproduction with the same clarity and articulation as both the larger KAYA models and our GIYA loudspeakers: every note is perfectly distinct and free from blurring, so you get to enjoy it precisely as it was played.
An accessible package that brings your favourite music compellingly to life
KAYA loudspeakers could only be made by Vivid Audio. Those curvaceous profiles. The patented technology. Above all, that astonishing sound quality, free from all resonance and coloration, that opens the window wide on the performance. And of course, they're completely revolutionary, in their own understated way. Smooth, clean lines, and a detailed, focused sound that draws you in, holds your attention. Easy to live with. Truly life-enhancing.
Accessible and extraordinary
The KAYA range is the authentic Vivid Audio listening experience, made more accessible. These three and two-way loudspeakers take all our patented technology and package it in sleek, compact enclosures: perfect for rooms where the sound system is part of the space, rather than the main feature, and great for home theatre. The position of the tweeter and mid-range driver gives KAYA speakers a more directional sound, taking you deeper into the performance. And once you're in there, you can revel in every detail, and the seamless, uncluttered sound field created by our unique engineering-led approach.
The designers
In developing the Kaya range Vivid Audio drew on the experience and creativity of Industrial designers Matt Longbottom and Christoph Hermann. For them, Kaya has been a perfect Design challenge – create a design language that builds upon Vivid Audio's core philosophy of using sound to inform design – but can remain calm and approachable throughout the diverse family of products.
Much of Matt Longbottom's work has been influenced by the use of surface modelling techniques to bring beauty and detail into industrially manufactured products. This speaker series draws from his experience in furniture design where human contact with design is at its most natural.
In addition Christoph Hermann demonstrated his expertise in generative design to optimise the speaker grilles by reducing material obstruction to an absolute minimum. Together they created this beautifully sculpted, digitally informed yet highly engineered speaker series.