Technical specifications
D/A Conversion – 1 AK4493 chip PCM up to 384kHz + DSD 512
Digital Inputs – 1 USB type B, 2 AES/EBU XLR / 2 S/P DIF RCA / 2 Optical Toslink
Analogue outputs – Unbalanced – RCA connectors, Balanced – XLR connectors
Power supply – 3 toroidal transformers with ten independent regulation lines
Voltage – 110-120/240 VAC – 50/60 Hz / 100 VAC – 50/60 Hz Japan
Consumption – 60 VA Max
Dimensions (WxHxD) – 425x130x415 mm
Weight – 15 kg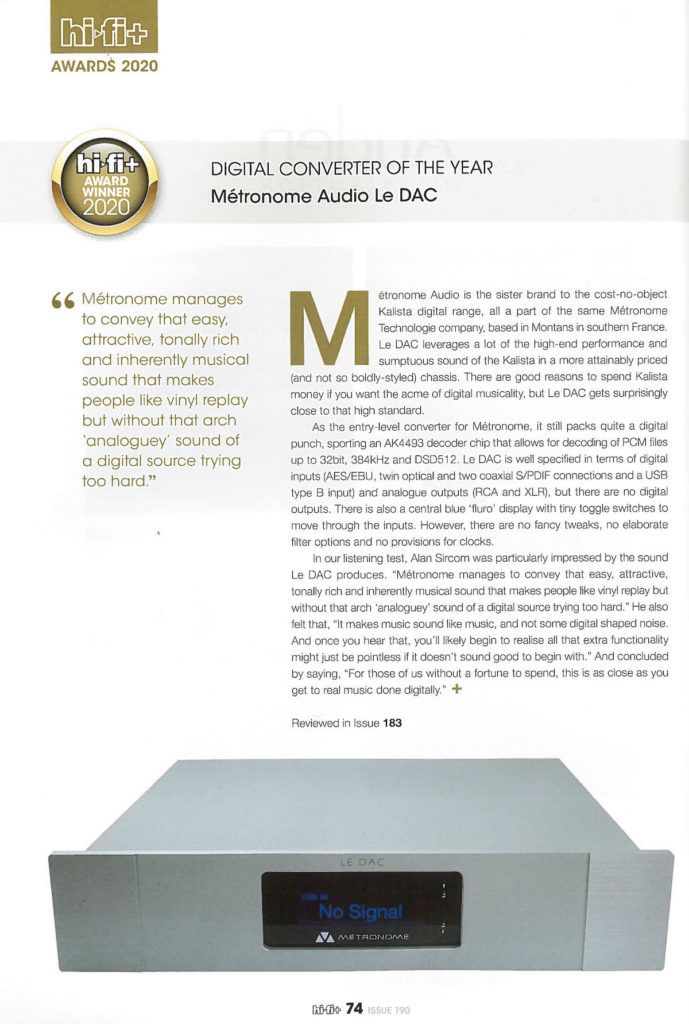 Highlights and Design specificities
Our electronics are 100% made in our own design office, together with all parts of our devices. All the Métronome converters are evaluated by our engineers, first of all for their musical qualities.
The involved conversion is of dual-mono type, integrating 1 or 2 DAC chips per canal acording to the model. Lines are fully independent, in order to reduce distorsion. Each line gets its own operational amplifier, which is also a jitter-reduction parameter.
Power supply is one of Métronome know-hows. Based on high-quality toroidal transformers, our PSUs provide separately each functions of the devices (independent regulation lines).
Each device also integrates a specific power filter.
D/A Converters
According to the model, 2 or 4 D/A converters use the best 24 bit / 192 kHZ or 32 bit / 384 kHz technology with 32 bit internal processing in or- der to restitute a beautiful clear and deep sound. The upsampler and the D/A converters are xed on in- dependent PCB plugged on the main board, allowing potential upgrades.
The type B USB digital input al- lows direct connection with your computer or music server and accepts high resolution signals up to 32 bit / 384 kHz according to the model. Each digital input uses its own digital input receiver for a low level of jitter.
The analog stage receives four operational amplifiers typically chosen for their sound quality, their fast transitions and exceptional audio quality.
The power supply performs individual power transformers and independent regulation lines for each critical part of the converter providing inter-stage EMI/RFI radiation protection to insure analog-like sound quality. D/A converters are available in black and silver nishing, two front plates heights, and optional Elektra external power supply.
An audiophile passion
Founded in 1987 and developped by a group of passionate, Métronome is one of the highest audiophile brands. Along the years, the handcrafter company built loudspeakers, amplifiers, and the reputed CD players which made the world class reputation of the brand.
Controling technology
For several years, Métronome strengthens its position onhigh-resolution music, proposing integrated DAC and CD players as well as converters adapted to the latest formats. It's our constant commitment to be close to your needs and your audiophile practises.
Manufacturing with a high quality requirement
Métronome designs and handcrafts all their production, in order to provide you perfectly built devices with the fantastic "Métronome sound". Every device is controled by our engineers so that its performance is always the best.
With our worldwide presence, our partners are dedicated to demonstrate our devices in real conditions. We hope you will appreciate their manufacturing quality and exceptional musical performances.