Resolution :
32 bits / 384 kHz dual-mono
DSD 64 TO 512 (eq. to sampling frequency of 22.4 MHz)
Internal facts :
Dynamic range : 175 dB / Distorsion + noise : -140 dB
Internal processing 32 bit / Frequency bandwith de 32 à 211 kHz
Analog output :
Class A polarisation
Bandwith : 10 Hz – 20 kHz +/- 0.1 dB
Dynamic range capacity : 140 dB
Network :
1 Ethernet connector
Digital inputs :
All inputs accept signals ranging 44.1 to 192 kHz :
2 S/PDIF inputs 75 Ohms RCA connectors
AES/EBU 110 Ohms XLR connector
Optical Toslink
USB type B : PCM and DSD de 44.1 à 384 kHz
Analog outputs :
Unbalanced 2.5 V RMS @0dB -47 KOhms – RCA connectors
Balanced 2.5 V RMS @0 dB – 600 Ohms – XLR connectors
Power supply :
4 toroidal transformers with 10 independent regulation lines
Voltage:
100 VAC – 50/60 Hz Japon
120/240 VAC – 50/60 Hz Autres pays
Other characteristics :
Consumption : 35 VA
Dimensions (LxHxP) : 435 x 110 x 435 mm Weight : 17.5 kg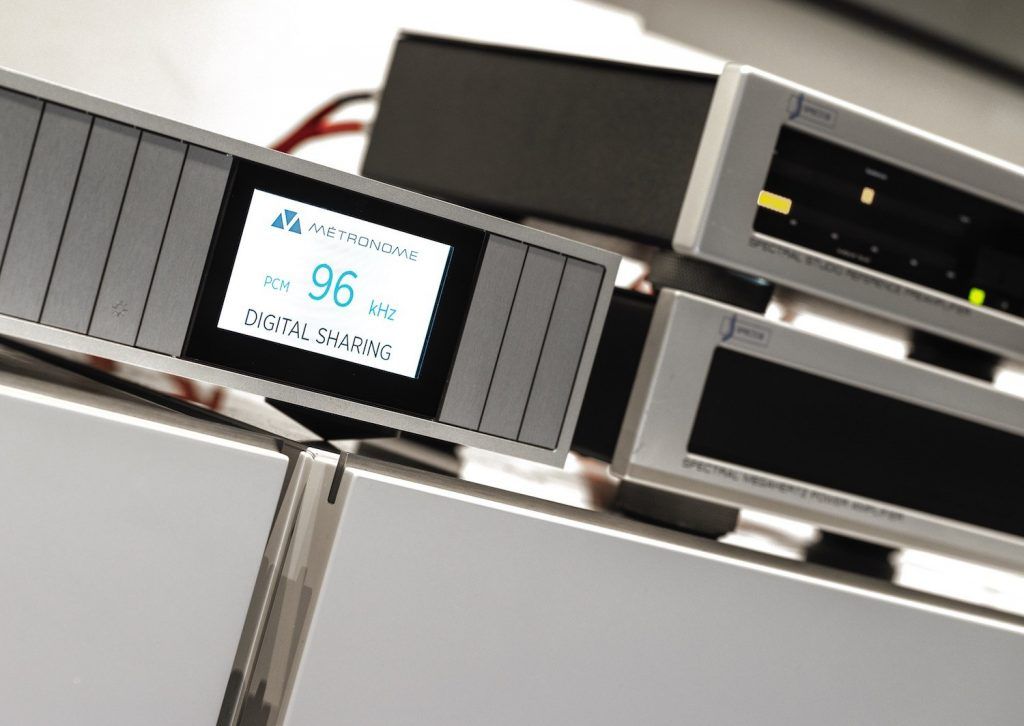 DSC1 : D/A CONVERTER AND STREAMER
DSC1 is the first device of Métronome's new range "DIGITAL SHARING". It is a top high-end D/A converter, featuring an entirely new design for the Métronome Brand.
Being a hybrid device, DSC1 will allow you to read music on your local network, through an Apple iOS or Android DLNA compatible App. DSC1 reads native DSD up to DSD512 and of course all PCM files up to 32 bits/384 kHz.
We remained loyal to Asahi Kasei DAC chips, implementing the very last generation AK4497, which gives such analogue and alive sound reproduction.
The complete chassis of DSC1 is made of massive aluminium, and is available in Black and Silver finishes.
About Metronome
Founded in 1987 and developped by a group of passionate, Métronome is one of the highest audiophile brands. Along the years, the handcrafter company built loudspeakers, amplifiers, and the reputed CD players which made the world class reputation of the brand.
Controling technology
For several years, Métronome strengthens its position onhigh-resolution music, proposing integrated DAC and CD players as well as converters adapted to the latest formats. It's our constant commitment to be close to your needs and your audiophile practises.
Manufacturing with a high quality requirement
Métronome designs and handcrafts all their production, in order to provide you perfectly built devices with the fantastic "Métronome sound". Every device is controled by our engineers so that its performance is always the best.
With our worldwide presence, our partners are dedicated to demonstrate our devices in real conditions. We hope you will appreciate their manufacturing quality and exceptional musical performances.
Digital sharing
DSC1 stands for Digital Sharing Converter, and is a hybrid device in one box that will become the most precious piece of your system. It will allow you to decode the highest resolution files, such as DSD512, from all your mobile and network devices, through DLNA protocol. The Metronome making assures a high manufacturing quality, but above all the pleasure of a precise and refined sound reproduction. In one word, this is live music !
Under development, DSS will connect and give the network playing and streaming functions to the other elements of your system, for instance your AQWO or your Le DAC!
Many DLNA-compatible apps can be used, and we advise using the mConnect player (available in both Apple iOS and Android formats). This easy-to-use app allows a fluent network browsing, reading high-resolution music files, driving playlists…
Highlights and Design specifications
As always, the entire design and engineering was made by Métronome Technologie research and innovation office.
DSC1 is a top high-end D/A converter, which uses two last-generation conversion chips AK4497 (one per channel). This results in an excellent precision, which perfectly conjugates with the analogue savoir-faire of Métronome… Sound reproduction is very well defined, aerial, and powerful…
The power supply is integrated inside the massive aluminium chassis, and is made of 4 toroidal transformers and 10 independent regulation lines. The D/A board is independent of the main board allowing DSC1 to accept future upgrades.
Thanks to its timeless sleek design, DSC1 will integrate beautifully all audio systems…