Great sound starts and ends in analog
As in the professional recording environment, analog signal quality is paramount to the listener's experience, and Rupert Neve's analog circuit designs are world-renowned for their musicality and clarity.
The Precision DAC is built around pure Class-A, high voltage topologies for extremely wide bandwidth and exceptional dynamic range, with balanced XLR inputs and outputs utilizing custom audio transformers based on those found in Rupert Neve's classic studio designs.
Just as they are crucial to perfecting the art of musical recording, these circuits and transformers are also the key to the Precision DAC's stunning playback resolution, and to its ability to produce a soundstage with visceral realism and unparalleled depth.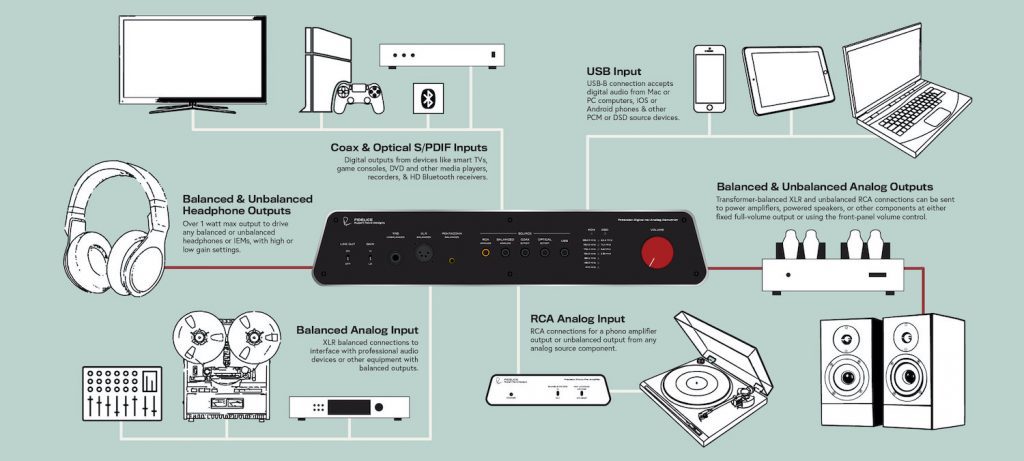 A new standard in digital accuracy
The Precision DAC will resolve every last bit of nuance in your music collection. In DSD mode, the DAC is capable of operating at the highest available standard of DSD512 (22.4 MHz). In PCM mode the the DAC is capable of reproducing 32-bit, 384 kHz files. Pristine clocking with the top-of-the-line AKM converter chips and highly customized integration make the Precision DAC a true reference level product.
The Precision DAC's rear panel also features digital filter sets to further adapt the sound for any system.
"A well-deserved Product of the Year Award...and a must-hear for anyone who wants that right-out-of-the-mixing-board sound!"
"A brief listen to a few familiar tracks...yielded spacious and highly resolved yet very substantial sound, with a remarkable sense of soundstaging / instrumental placement I've seldom experienced through headphones."
"...the best sounding, most enjoyable, all-in-one unit I've heard at its price-point that also includes a true analog-input-to-analog-output path."
"Listening to the new Fidelice Precision DAC's headphone output with the new ZMF Verite Closed-back design was a revelation."
To hear the Precision DAC is to experience recorded music's true potential.
The reference headphone amp
The headphone amp in the Precision DAC elevates the award-winning RNHP design with the inclusion of dedicated XLR balanced and Pentaconn balanced outputs in addition to the 1/4" unbalanced output.
The Headphone amp also features a high gain switch to drive the most difficult to power headphones – this is pure headphone audio at its finest.
While listening tests are always the final arbiter for all of our designs, the Precision DAC also delivers truly world-class technical specifications in addition to its stunning sound quality. From the unbalanced input to the unbalanced output, the THD+N @ 1kHz is a vanishingly low .0003%, with noise at -109dBV (22 Hz – 22 kHz) and frequency response of better than +/- .1dB from 5 Hz to 112 kHz. Even from the Precision DAC's balanced input to transformer balanced output, THD+N @ 1 kHz remains better than .0005%, with noise at -101.2dBV (22 Hz – 22 kHz).