Vi kommer att göra vårt bästa för snabb och säker leverans.
Tveka inte att höra av dig om du har frågor.

Specifications
TYPE - 3-way passive speaker, bass reflex
DRIVERS
Woofer: 220 mm (8.7 inches) Accuton, ceramic sandwich dome
Mid-woofer: 158 mm (6.25 inches) Accuton, ceramic membrane
Tweeter: 25 mm (1 inch) Accuton, ceramic inverted dome
INTERNAL WIRING - Kubala-Sosna
FREQUENCY RESPONSE - 22-30 000 Hz
POWER RATING - 150 W
NOMINAL IMPEDANCE - 6 ohms (min 3,5 ohms at 50 Hz)
SENSITIVITY - 87 dB / 2,83 V
MINIMAL AMPLIFIER POWER - 30 W
DIMENSIONS
Height: 1260 mm (49.5 inches)
Width: 420 mm (16.5 inches)
Depth: 590 mm (23 inches)
NET WEIGHT - 69 kg (150 lbs.) per piece
CABINET MATERIAL - Marble based composite
RECOMMENDED ROOM SIZE - 25-50 m² (270-540 square feet)
FINISH
Black Lava Liquid Gloss
Black Lava Matte
Blue Cobalt Liquid Gloss
Red Rocket Liquid Gloss
Silver Pure Alu Matte
Silver Pure Alu Liquid Gloss
Violet Night Liquid Gloss
White Gloss
White Matte
About Estelon XB
The Estelon XB Mk II shares its predecessor's qualities of impeccable audio reproduction, along with the curved-sculptural styling that is tailored to excel in a smaller listening environment. It remains true to the X-Series' expansive soundscape delivering a precise performance.
The upgraded XB Mk II sports a redesigned crossover network, along with new cabling, that assist in the refined balance, crystal-clear clarity, and the most accurate reproduction. The perfect speaker system for those seeking to experience thrilling sound throughout the whole frequency spectrum.
Technology
Estelon loudspeakers are built with the highest standards in the industry. Each component is carefully chosen and repeatedly checked so we are confident that it meets the best quality for a perfect result.
Engineering Concept
Each element and its characteristics play a crucial role in delivering the purest sounds imaginable. All Estelon products are built from the inside out. The shape is a result of decades of engineering and experience in creating the best conditions for music reproduction. Taking this into account there are not many materials in the world that can adhere to the necessary conditions.
Cabinet Materials
All our speakers' cabinets are built using a proprietary marble based composite material. This allows the creation of the perfect form and shape of the speaker. The specific materials, along with the unique shape, eliminate any extra internal resonances and diffractions so the sound is pure and natural without any colouration.
The same philosophy is also used for the YB speaker, using materials that fit best the speaker's characteristics.
The finishing techniques of our speakers come from the automotive industry, which makes the coating very durable. The finishing is handcrafted and consists of up to 12 layers and careful hand polishing.
Top Quality Drivers
The Estelon X-Series loudspeakers use drivers from the German company Thiel & Partner. They have been producing and distributing high-quality drivers made of stiff membrane materials such as ceramics, CVD-diamond and aluminium, under the accuton® brand since 1994. Accuton also produces the speaker systems for the Bugatti supercars.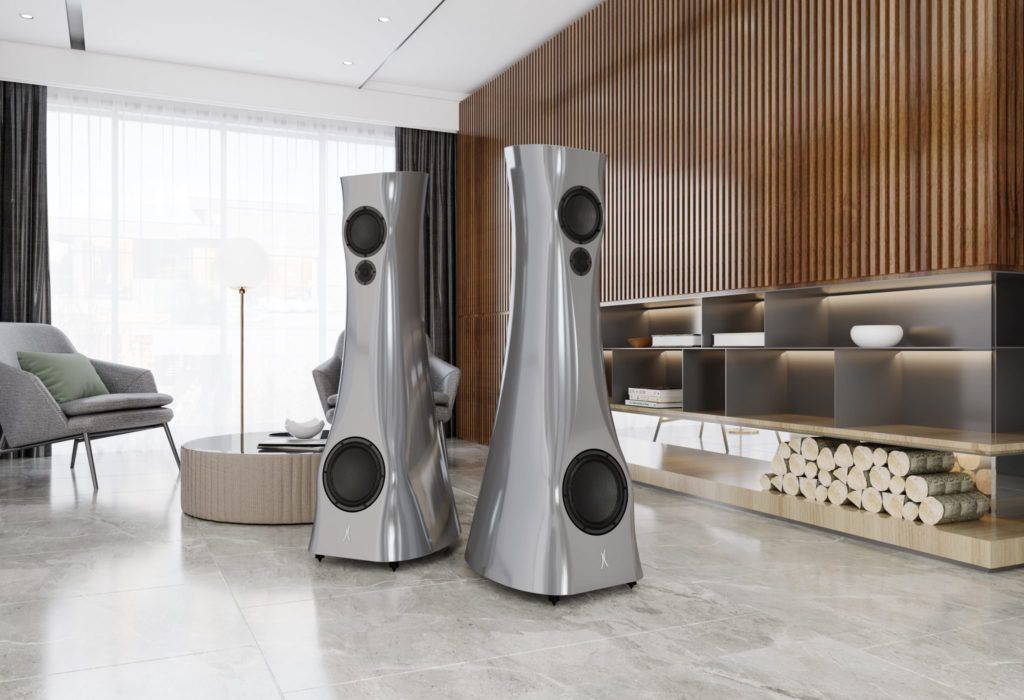 Our Story
Since 2010 Estelon is providing the most luxurious loudspeakers to the high-end community. Acoustic excellence through sophisticated engineering, as well as high-quality components, are combined in order to accommodate the brilliance of Estelon sound reproduction systems. Decades of knowledge and experience allow us to produce loudspeakers with a truly rich natural sound, creating an unimaginable musical experience.
The story of Estelon's chief designer and engineer started decades ago when at a very young age and while growing up in the Soviet era he began to dismantle radios and adjusted their components to improve the sound quality. He took his interest to the university, studying electro-acoustics in St Petersburg. This was the beginning of a journey that led to an important moment back in 2010 when engineer Alfred Vassilkov was having breakfast with his family.
"It was a lovely Sunday morning having breakfast with my family", Alfred recalls. "I had long held the ambition of creating the world's best loudspeaker. I knew what the concept would be but instead of selling my idea to a company, I decided to build it on my own. Luckily I already had the best key executives in my family, my daughters Alissa and Kristiina. That same evening we decided to set up the company."
Alfred was designing speakers for over 25 years before achieving his ambition. He always sought perfection and overcame challenges. Those experiences enabled him to develop technologies and seek materials to construct the most unique and innovative products. These were combined with inspiration from nature – the lush and expansive forest landscapes of Estonia in specific – creating the perfect balance between engineering and design.
The result is Estelon, one of the world's most luxurious speaker brands. It derives aesthetic and acoustic excellence through the merger of ingenious creativity and cutting-edge science. Each decision – from engineering techniques to materials and components used in the manufacturing process – is made with the perfect harmony of the speakers as a whole in mind.
For Alfred, this flawless synergy is what an engineer strives for in his creations. Every single detail is carefully considered, selected and tested during all stages of the production process. The result is a handcrafted masterpiece of beauty on the outside and the pinnacle of technology on the inside.
Estelon is today regarded as a leading innovator in the audio industry, having received multiple awards for its designs and technological innovations. Two times 'Innovation Award' in the Consumers Electronics Show (CES), and a prestigious 'Red Dot Design Award', are only the beginning of a very long list of achievements since 2010.
The company's loudspeakers are today proudly owned by some of the world's most eminent innovators and global leaders.

Ytterligare information
| | |
| --- | --- |
| Color | Black Lava Liquid Gloss, Black Lava Matte, Blue Cobalt Liquid Gloss, Red Rocket Liquid Gloss, Silver Pure Alu Matte, Silver Pure Alu Liquid Gloss, Violet Night Liquid Gloss, White Gloss, White Matte |
Only logged in customers who have purchased this product may leave a review.