Technical Data
Material – Ultra duralumin
External dimensions – H 21 × W 40 × D 55 mm
Connector part – Aluminum
Connector terminal – Gold plating
Connector terminal – Gold plating
Shell lead wire – Litz wire 4N φ 0.08 x 10 x 3 yore rings
Weight approx – 10.5 g (excluding shell lead wire) 11.0 g (including shell lead wire)
Screws – Stainless steel bolt M 2.6 L 8 × 2, M 2.6 L 12 × 2 M2.6 SUS but×2
MER INFORMATION HÄR
"40 years a dream, today, a reality…"
It has been over 40 years since Toshiba introduced the world' s first optical cartridge, a groundbreak- ing concept that captured the hearts and imaginations of passionate audio lovers.
These early designs showed us that a phono cartridge system which was completely free of magnets and their inherent negative side effects utilized an incredibly low mass generator design and also featured the simplest and cleanest possible electronic circuitry, could deliver overwhelming advan- tages in vinyl playback when compared to traditional phono cartridge technology.
DS Audio, inspired by these original optical designs and filled with a deep love and passion for music, has gone on to perfect and realize the true potential of optical cartridge technology.
We have carefully and thoughtfully reimagined the optical cartridge using modern technological solutions, expanding on the benefits whilst eliminating the flaws present in the original optical designs.
We proudly present our range of optical cartridge systems, from the DS-E1, offering unbelievable performance and sharing many design elements pioneered in its stablemates, to the DS Master1, our flagship model which we believe represents the pinnacle of analogue vinyl reproduction.
We would be honored if you would join us and experience for yourself the wonder of what is truly possible in the realm of vinyl reproduction at the highest level. DS Audio CEO Tetsuaki Aoyagi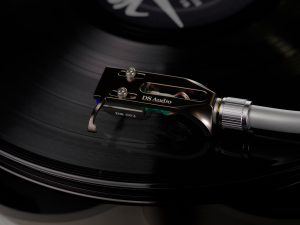 Solid Head Shell HS-001
Vertical pin structure achieves uniform pressure of electrical contacts. Contact surface stabilized by spherical washer Conventional head shells have the connecting pin attached only to the upper side, causing uneven contact pressure between the arm and the head shell.
However, the HS-001 Solid Head Shell adopts both an upper and lower pin structure, equalizing the pressure on the contacts and applying force evenly across the connection to the tonearm.
Moreover, by using the spherical head shell washer developed by DS Audio independently at the contact point with the tonearm, stable contact is achieved over the entire circum- ference of the contact point, providing improved stability and resonance control.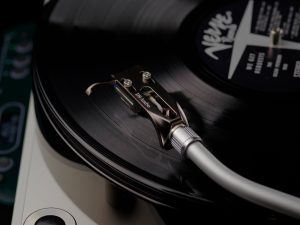 Features
Vertical pin structure achieves uniform pressure of electrical contacts. Contact surface stabilized by spherical washer
HS-001 Solid head shell is incredibly rigid as each is individually machined from a solid piece of ultra duralumin.
By soldering the lead wire and the head shell connector manually, perfect electrical contact in ensured and the freshness of the sound is maximized.