Loudspeakers – Grade 1 Titanium Tweeter driver, Aluminum Medium driver , Aluminum Bass drivers
Digital To Analog Converter – Devialet DAC embedded in Devialet intelligence Processor 24bits/96kHz , THD: -112dB
Processor – ARM Cortex-A9 1.25GHz processor 512MB DDR3-1600 memory
Operating System – Side Plating – Body: black RAL 9017 | Polished stainless steel dark chrome sides | Black RAL 9017 dome drivers
Dimension – Width : 252 mm | Height : 255 mm | Depth : 342 mm
Weight – 11.4 kg
Maximum Sound Level – 108 dB SPL at 1 meter
Amplification Power – 1100 Watts RMS (4500w)
Amplification Performance – THD+N* : 0.0005% | Saturation : 0 | Background Noise 0 dB SPL at 50 cm (-15,5 dB SPL at 3m) (*Total Harmonic Distortion + Noise)
Frequency Response (Bandwidth) – Bandwidth : 14Hz to 27kHz (@-6dB) , Accuracy in frequency response : ± 2dB from 20Hz to 20kHz
Synchronisation – Phantom synchronisation via Wi-Fi, Ethernet or PLC.
Connectivity – Airplay 2 , Spotify Connect , Bluetooth : A2D and AVRCP profiles, AAC, SBC audio codecs , Roon Ready (Hi-Res: 24bits/48kHz) , UPnP Renderer (Hi-Res: 24bits/48kHz) . Toslink optical input (Hi-Res: 24bits/48kHz)
Network – Wi-Fi Dual-band (a/b/g/n/ac 2.4GHz & 5GHz)
Ethernet RJ-45 10/100/1000 Mbps (Gigabit)
CPL Homeplug AV2
Wi-Fi Dual-band (a/b/g/n/ac 2.4GHz & 5GHz)  –
App – Devialet app (iOS, Android)
Color – Matte Iconic White with gold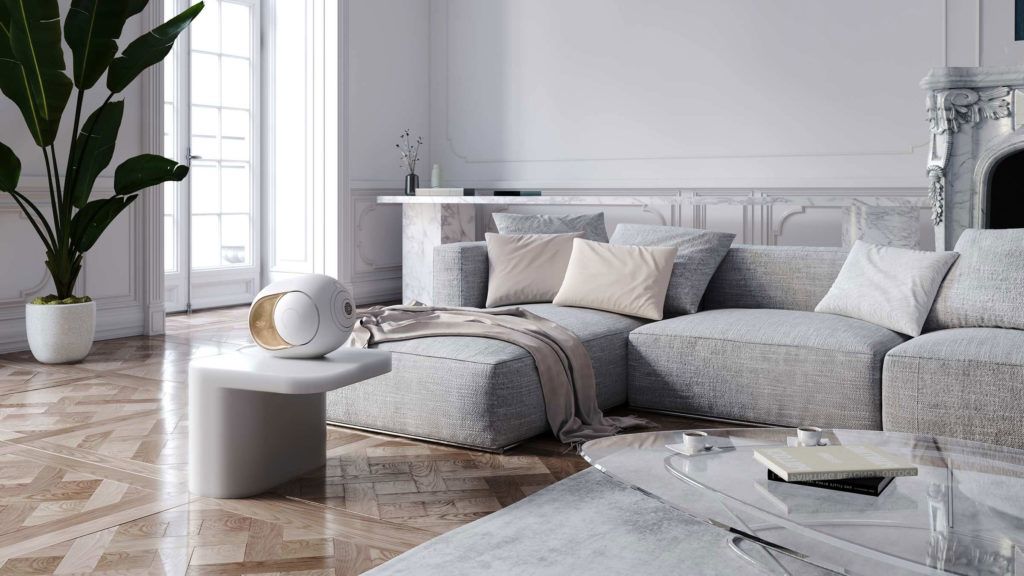 About Phantom Opéra de paris
Phantom I 108 Db Opéra De Paris
Phantom I Opéra de Paris | Devialet is not only an unparalleled piece of sound engineering. It's also an ode to one of the world's greatest cultural institutions. It embodies the vision of excellence shared by a 350-year-old cultural maverick and a 21st-century tech company that's just getting started.
Forget what you think you know. Unlike any wireless speakers that have gone before, Phantom I's revolutionary technologies fuse together to deliver an intense emotional experience. One you can literally feel in your bones.
Plug, play and unleash the physical impact of a high-end ultra-dense sound with power, clarity and precision like nothing you've ever encountered.
Hi-Fi. Docks. Speakers. Home cinema. Wireless or bluetooth. Phantom I obliterates all existing home sound systems.
Phantom I 108 dB, the ultimate connected speaker with its Remote. Hear every detail brought to life with unthinkable clarity and precision by a Grade I Titanium tweeter. Surrender to indecent power and ultra-deep bass. Sound in its purest and most essential form. No apologies.
Multiroom: Here, There, And Everywhere
Whether you want your home to sync up like a symphony, or look to prefer different tunes in different rooms… we have good news.
Introducing Devialet Multiroom for Phantom. That means you now have more ways to play.
Multi-Zone play
Rooms of the home, unite!Group your speakers and jam to the same music in multiple rooms.
Single-Zone Play
One room, multiple possibilities. Mix and match your Phantoms for a next-level acoustic experience. And you can always pair them in
Individual Play 
Different vibes for different tribes. Someone can listen to jazz in the kitchen while another enjoys a podcast on the couch. And you can each control your volume and manage zones directly in your own Devialet apps.
Assume Position
For your Phantom to feel right at home, make sure it has a dedicated spot. Because who doesn't need a little breathing room?
The optimal Phantom set-up is:
– Between 45 and 90 cm high so it hits you head on
– 30 cm from a wall, so low frequencies bounce back and reinforce immersiveness within the room
– Unencumbered; do not place objects in front of Phantom to avoid obstructing the sound propagation
If in a stereo set-up, place the speakers between 1.5 and 2.5 m apart and angle the speakers inward 35°.