Beskrivning
Output power
460W RMS under 4-ohm load
230W RMS under 8-ohm load
(compatible with a 1-ohm load)
Maximum output current
+ / – 75 amps
Maximum pulse power
4500W
DHT + N (A-Weighting)
0.002% (1KHz 1W)
IMD (60Hz – 7KHz; 4:1; 1W)
0.004%
Bandwidth (1W)
DC (0Hz) – 475 Khz (-3dB)
DC (0Hz) – 190 Khz (-0,1dB)
Bandwidth (230W)
DC (0Hz) – 60 Khz (-0,1dB)
Damping factor
> 480 under an 8-ohm load
Signal-to-noise ration (A-Weighting)
> 120 dB
Voltage gain
29 dB
Sensitivity
1,4V RMS
Available inputs
x 1 XLR in Bypass mode
x 1 RCA in Bypass mode
ON/OFF Control
TRIGGER input (+12V)
Speaker outputs
WBT-0702.01 terminals with 24-carat gold finish
Dimensions
400 x 400 x 245 mm
Weight (For a standard amplifier)
47,5 Kg
MER INFORMATION HÄR
APOGÉE
After many years of research and development, Catherine and Franck Borne have made their dream reality.
The APURNA™ Apogée Collection of amplifiers, showcasing the stunning internals, is a jewel of technology and design.
This fully-customisable* model is sure to satisfy the most demanding connoisseur.
Available Connectors
The connectors on all our amplifiers have been selected for their technical excellence, and are gold-plated.
AVAILABLE INPUTS
1 XLR socket in bypass mode
1 RCA socket in bypass mode
TRIGGER In / Out (Link)
SPEAKER OUTPUTS
2x WBT-0702.01 terminals with 24-carat gold plating
Optic
Beautifully curved, in an anodised aluminium bezel, the Soprano amplifier's optic looks stunning.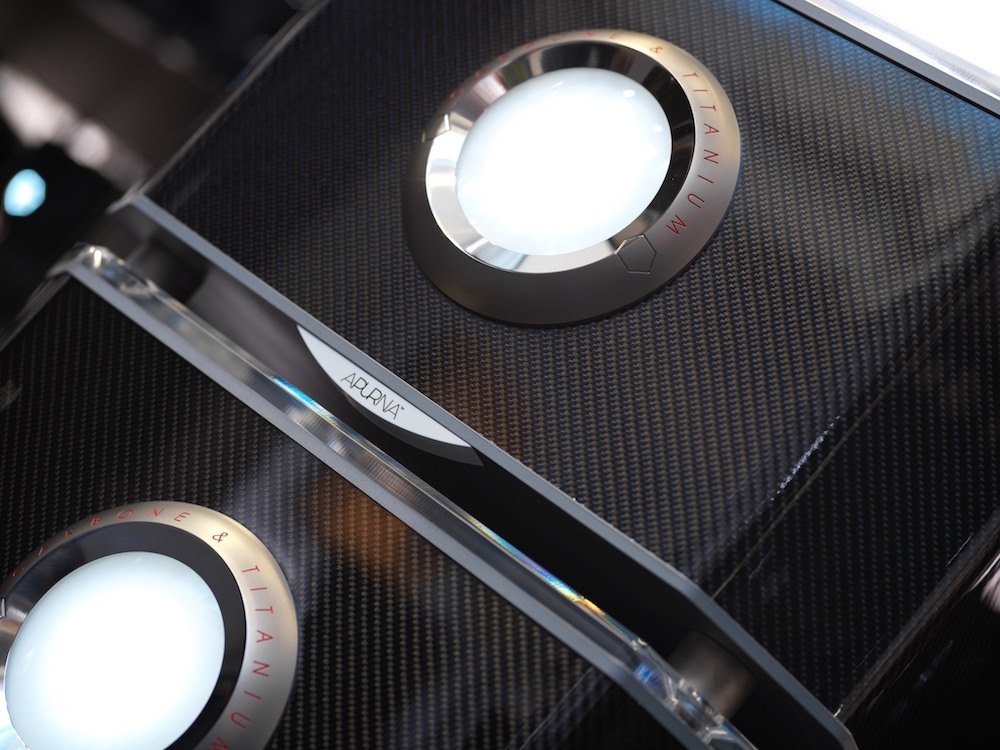 Concept
APURNA is a brand of hi-FI amplifiers from France, but above all is a brand telling the story of one couple's passion for the purest technology and elegance.
After years of work and careful thought, Catherine and Franck Borne today are proud to launch their analogue amplifier that delivers not only on performance, but every bit as much on re nement and design.
The analogue technology in APURNA amplifiers delivers truly exceptional sound by capturing the essential.
Our Expertise
Every APURNA amplifier is built in France. The technical choices inspired by the spatial sector are guaranteeing premium performances. Everything is designed to be intuitive and a pleasure to use, thanks to the controller beautifully sculpted from noble metals and ne crystal.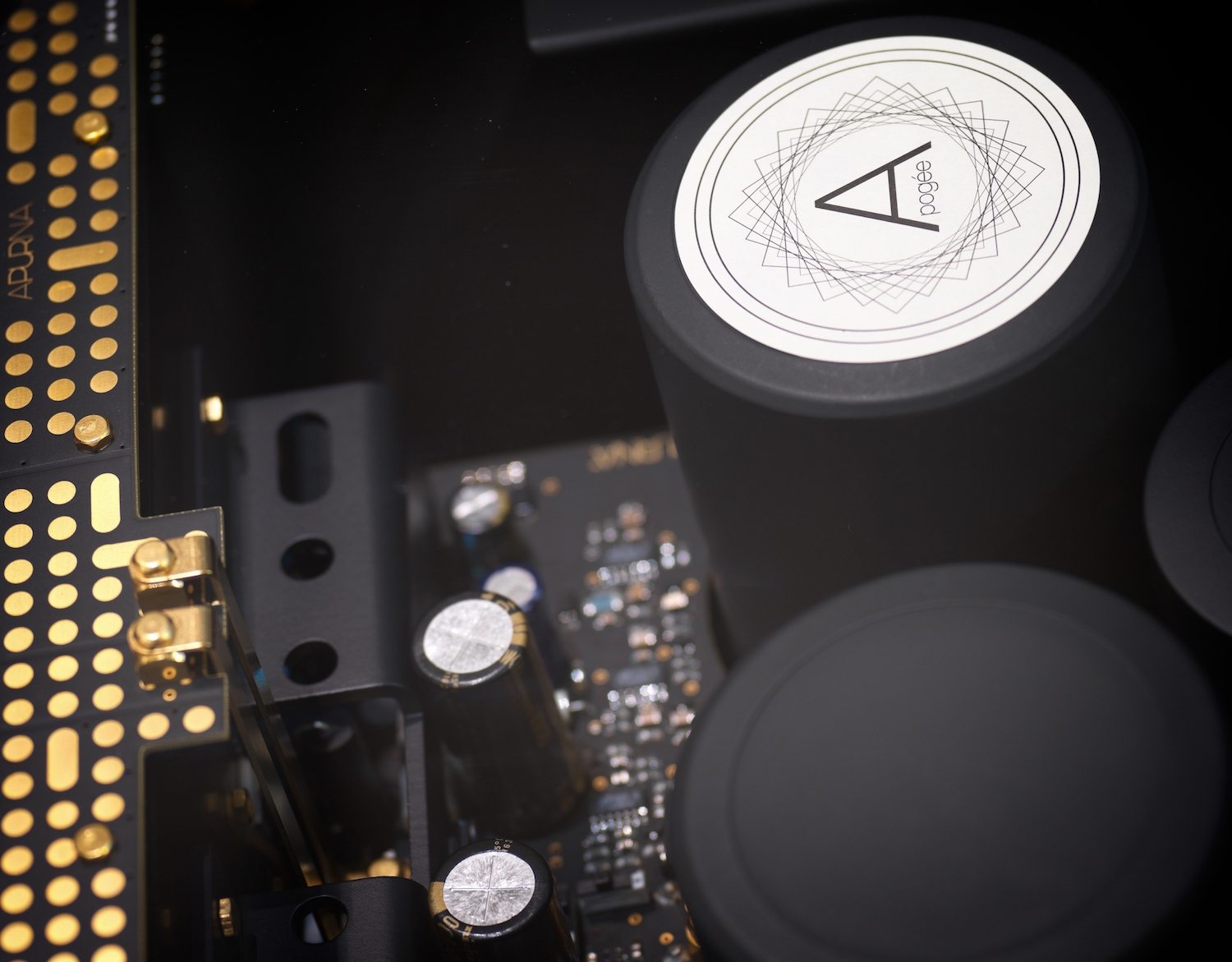 APURNA is committed to bringing you the nest materials sublimated by the sensitivity of art craftsmen.
This innovative and luxurious HI-FI system is patent-protected.
A Uniquely Beautiful Controller
The ergonomic and intuitive APURNA controller is sculpted from noble metals and ne crystal.
Black & White Multichannel System
The APURNA 5.0 system satis es even the most demanding of users. These 5 amplifiers work with your multichannel system to deliver exceptional sound in your home cinema whether you're watching a concert or a film. The "Black & White" model presented during the event is in a range of beautiful lacquer coats with a covering of "Intense Black" leather. The 2 "Flower Princess" amplifiers are in a "watercolour" look inspired by the Tiaré flower and delicately embellished with rose gold detail.
Interchangeable Customisation
To give you something truly Unique Like You and beyond the musical excellence, APURNA allows you to personalise your amplifier using the very nest materials available. Each client is able to select the nish for their amplifiers: leather, carbon, lacquer… make your APURNA system «Unique like You». * This customisable and interchangeable «dress» allows you to own a piece that is both leading technology and work of art.