Vi kommer att göra vårt bästa för snabb och säker leverans.
Tveka inte att höra av dig om du har frågor.

Transparent Speaker Small
Kraftfullt men balanserat ljud som fyller alla rum. Tillverkad av aluminium och härdat glas är denna högtalare designad för att vara lika mycket en inredningsdetalj som högtalare. Men är också redo att utvecklas för vilken teknik som kan vara användbar under kommande år. En strävan att bli bättre med tiden.
114

kr/mån
---
Läs mer om leasing.
Önskar du rådgivning inför val av produkt?
Dimensions (mm): 268 × 203 × 95
Weight: 3 kg
L/R Drivers: 2 × 3'' (Full Range)
Amplifier: Class D built-in (active)
Output power: 2x 15W
Sealed Cabinet Volume: 3 l
Frequency Response: 60 Hz - 20 kHz ±3 dB on axis
High Quality Digital Signal Processing (DSP)
Front Controls: Volume
Line in: 2 x 3,5mm (front and bottom)
Cables: Long and short audio cable, long and short (USB) power cable
Wireless: Bluetooth and "True Wireless" dual speaker streaming
Compartment in the bottom with USB power supply
Wall mount: Brackets and screws included
Focus on sound
Our design philosophy is to make honest products that work great and last over time. We have simplified the design to only the essential and iconic elements. We want the music to be in focus of the expression, the most important aspect of a loudspeaker.
Wireless
Today many tech products become obsolete after only a year or so. We rather intend for this product to become better over time. The speaker comes with Bluetooth™ out of the box. There's no need for any app, they are set up like any BT accessory through a smartphone. Our new Small Transparent Speaker also has a nice feature built in which is called True Wireless pairing, which means you can simply play to two speakers at the same time.
There is also a compartment in the bottom that can hold and power various wireless upgrades. We currently recommend Amazon™ Alexa's Echo Input for multiroom music over Wifi (similar functionality as a Sonos system). In this setup, each speaker that should be part of the wifi streaming should get an Echo Input device plugged in in the back/bottom. The Echo Input devices are then configured in the Alexa app. This setup also offers all the voice control features of the Alexa platform. The compartments in the back/bottom of the Transparent Speakers are designed to completely hide this kind of modules, and short cables are included.
Our speakers can also be part of an existing Sonos setup. Use a Sonos Connect or AMP hub and plug into our speaker(s) via cable. These Sonos Hubs are a bit bigger so they don't fit inside our speakers, but still convenient for those who want to buy a Transparent Speaker but continue to use their existing Sonos system.
The ambition is to be able to upgrade all speaker systems as ever new wireless technology develops. This way our customers can keep the product updated by their preference and change only a small part, instead of replacing the whole unit.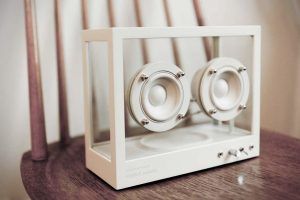 Playing Music
To play music you can use the music cable supplied. First, plug in the power cable and flip the on switch on the front, a white light indicates the speaker is now on. Then plug in the audio cable and play music from any source you prefer.
Bluetooth Pairing
Flip the speaker onto its right side to expose the bottom interface. Press a short click on the button to initiate Bluetooth™ pairing mode. The LED should now blink blue. Now make sure your device /phone has Bluetooth switched on, locate and select the Small Transparent Speaker in the list usually located in relation to the Bluetooth settings. Done! You can now start playing music from your phone.
True Wireless Pairing
If you own two Small Transparent Speakers you can play music wirelessly to both units. To enable this first flip both units onto the right side. Plug in the power cables on both speakers and flip the on switches. Now press and hold the button for at least 3 seconds until you see a red light, then release the button for True Wireless Pairing Mode. Do this on both speakers (not necessary to do completely synchronised), and select one of the Small Transparent Speakers in the Bluetooth-list on your phone. Done! The speakers now automatically go into "left" and "right" mode, and will let you know by saying "left" or "right". Now place the left speaker on the left side of the room and the right one to the right.
Toggle Left / Right / Stereo
If you want to change these settings at any time you simply press the button for at least 6 seconds until you see a purple light, upon release, it will toggle between these modes.
Wall Mounting
This speaker can be wall mounted by using the included wall mounting brackets. To fasten the brackets to the speaker frame you should first remove the four silicon feet. Then unscrew the two screws (1) on the picture below and re-screw them into the lower holes of the brackets (2). Make sure both brackets are pointing inwards (3). Then screw the upper screws supplied with the brackets in place (4) and you are done. In order to wall mount the speaker, you can use the hole guide printed in the user manual to mark your holes.
Note that the screws and plugs supplied in the box are for concrete walls and a 6 mm drilled hole. We do not recommend wall assembly on other types of walls. Insert the plugs in the holes and screw the wall screws almost all the way in, then hang up your speaker. Any wall mounting is carried out at your own risk. If any doubts we recommend to take help from people with experience of similar operations.
Assembly
For future repairing or customisations, we have designed the Small Transparent Speaker to be able to be easily disassembled and reassembled. In your user manual you will find instructions for disassembly and re-assembly. Please note that doing this requires a bit of experience using normal tools and that any tinkering is carried out at your own risk.
Only logged in customers who have purchased this product may leave a review.