Input AC parameters ON-grid
Input voltage – factory set 100 Vac / 120Vac / 230 Vac / 240 Vac
Input frequency range – factory set 45 to 65 Hz
Input current adjusted – factory set 8 Aac 10 Aac
transfer time – < 15 ms, on grid to off grid
Output AC parameter OFF-grid
Output voltage – factory setting – 100-130Vac / 200-245Vac (pure sine wave)
Output frequency – 50 Hz / 60 Hz +/- 0.05% (crystal controlled)
Harmonic distortion – < 2%
Continues power @ 25°C – 450 VA
Power 30min. @ 25°C – 700 VA
Peak Power 3 sec. @ 25°C – 1.800 VA
Ø battery operating time/ average load 400VA – 2.5 hours
Maximum load – up to short circuit
Maximum asymmetric load – up to P cont.
Load detection (Stand by) – 2.5 W
Cos φ – 0.1 – 1
Maximum efficiency – 93% (dc/ac conversion mode)
Consumption stand-by / on – 1.5 W / 8 W
Overload + short-circuit protection – automatic disconnecting with 3 restart attempts
Overheat protection – warning before shut-down with automatic restart
Operating temperature – 10 °C – 45°C
Relative Humidity – 0 – 85% non-condensing
Acoustic level – < 29 dB
Battery power unit
Battery type LFP – Lithium Iron Phosphate (LiFePO4)
Nominal battery voltage – 24 Vdc
Nominal capacity – 40 Ah
Volume Energy Density – 177 Wh/l
Gravimetric Power Density – 107 Wh/kg
charge current – factory setting – 10 Adc
Battery power unit
Working temperature – 0 to 45°C, 32 to 113°F
BMS – Battery Management System – 5A active balancing in charging + discharging mode
BMC – Battery Main Controller – main controller and monitor processor
CMC – Cell Management Controller – sensing temperature, current and voltage
Terminal area
AC output receptacles – 3x Hubbell duplex, Hospital spec. Grade or 3x Furutech High performance Schuko sockets
AC output fuse – thermal – magnetic circuit breaker
AC input connection – ICE 320 – C14 (fuse 16/10AT)
Interface – 3 service ports
Power switch – on/off ("on" = green LED)
Safety key switch for shipping – key switch "Release/Lock" all functions
Additional Features
Finish standard – silver anodized. * metallic-black and meteorit front-finish available at additional cost. Custom finish upon request.
Weight – 41 kg / 90 lbs
Dimension – (w x h x d) 48x22x47 cm
MER INFORMATION HÄR
Stromtank S-1000
The quality of electricity to be supplied to audio and AV systems has a profound effect on performance. This is the reason why STROMTANK uses high performance batteries in combination with a pure sine wave converter. That allows the separation of audio systems totally from the grid and provides a perfect AC signal.
This method is to be far superior to the typical approach of conditioning or regenerating the existing AC power signal coming from the grid. Only when a system is completely isolated from the AC grid you can eliminate the negative impact the AC grid has on sound performance.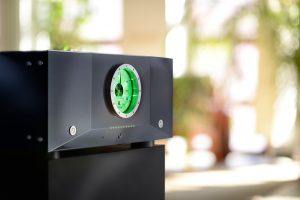 Regardless of what happens with the electricity from the power company, your system is ALWAYS unaffected.
Due to developments and improvements in the audio industry over the last decades components like speakers or amplifiers became bigger and also more powerful. To separate such energy-intensive systems completely from the "polluted" grid the ultimate power supply for highest audio demands was created: STROMTANK.
The S-1000 is an innovative battery array with state-of-the-art lithium-iron-phosphate technology: long cycle life, absolute safe and excellent high temperature achievements.