Vi kommer att göra vårt bästa för snabb och säker leverans.
Tveka inte att höra av dig om du har frågor.

New Manhattan DAC II features include:
- World's highest performance 130dB Sabre 9038 DAC chipset.
- 32 bit integer Class 2 USB2 driverless audio interface
- World class transparent analog preamp attenuators
- Roon Ready optional network card
- MQA ® hardware decoder
- Improved optional phono preamplifier card
- New, easy to navigate menu system
The Manhattan DAC II design uses the same chassis, same power supply, and front panel circuits as the original Manhattan. It uses a completely new, redesigned main board. This offers a substantial sound quality upgrade. Significantly better detail and resolution, and state of the art transparent analog preamplifier performance.
Femto Clock Technology
Mytek's new Femto Clock that's incorporated into our C777 Clocking architecture pushes jitter and the noise floor below measurable levels.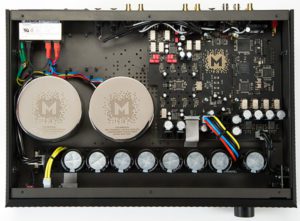 Highest Resolution Support
Modern high resolution audio formats support for PCM 32 bit 384 kHz DXD to Quad DSD256 11.2 MHz.
Discrete Analog & Digital Power Supplies
Two separate isolated power supplies for the analog and digital stages that lower noise and crosstalk while increasing power and consistency.
Ytterligare information
Color

Matte Black, Matte Silver, Shiny Silver

Specifications

SPECIFICATIONS

CONVERSION: PCM up to 384k, 32bit, MQA ®, native DSD up to DSD256, DXD, 130dB Dynamic Range.

MQA Hi-Res DECODER: built in certified hardware MQA ® decoder

DIGITAL INPUTS: USB2 Class2 (OSX, Linux driverless, all formats), AES/EBU (PCM up to 384k, up to DSD128 DOP), 3x S/PDIF (PCM up to 192k, up to DSD128 DoP), Toslink, SDIF3 DSD up to DSD256

ANALOG INPUTS: RCA Line In switchable to Phono with Optional Phono Card insterted, second pair of RCA Line In, third pair XLR Balanced Line In.
Analog inputs are router through minimalpath state of the art analog attenuator directly to analog and headphone outputs.

ANALOG OUTPUTS: RCA, balanced XLR, simultaneous, 50 Ohm impedance

HEADPHONE OUTPUTS: Reference High Current, High transient Headphone Amp, 500mA, 6 Watts, 0 Ohm out impedance. Dual headphone jacks, designed to drive demanding headphones. Balanced operation w/optional Mytek adapter.

BUILT-IN ATTENUATOR: Choice of 1dB step analog attenuator for main out and headphones, 1dB step digital 32bit attenuator or purist relay bypass.

CLOCK: "Mytek Femtoclock Generator ™" 0.82ps internal jitter,
Wordclock Input and Output (allows stacking multiple units for
multichannel operation, includes mch DSD)

AUDIO RECORDING FUNCTION FOR DIGITAL SOURCES: All digital inputs can be routed into computer via USB2. Allows connection of external digital sources such as CD Players and digitizing ADCs.

REMOTE: Included, universal remote capable

FIRMWARE: Upgradable via USB Control Panel App (Win and Mac)

OPTIONAL PRECISION PHONO ANALOG PREAMP CARDHigh End M/M, M/C Phono Preamplifier with custom nickel core step up transformer , relay switchable and tunable. Input impedances, transformer ratio, RIAA curves and choice of gain can be changed within the menu or using the remote via relay switches. Optional card is sold separately and is user installable.

OPTIONAL "ROON READY" NETWORK CARD: Turns the Manhattan II into network streamer with 24/192k and DSD64 maximum throughput. Compatible w/ Roon, DLNA/UpnP

POWER SUPPLY: Switchable 115/230VAC (100V Japanese version available)

DIMENSIONS: WxDxH=17"x10.5"x1.95"=432x267x50mm

WEIGHT: 16lbs, 8kg

Options

Phono module, Roon Ready network card, Stock, Phono & Network card
Only logged in customers who have purchased this product may leave a review.