Series N1ZS/2EX N1ZH/2EX N1A/2EX
Model HA-N1ZS/2EX-S40 (Silver)
HA-N1ZS/2EX-S40B (Black) HA-N1Z/2EX-H60 (Silver)
HA-N1Z/2EX-H60B (Black) HA-N1A/2EX-H60 (Silver)
HA-N1A/2EX-H60B (Black)
Support file (Server) DSF, DFF, FLAC, WAV, ALAC, AIFF, AAC, MP3, WMA, OGG, LPCM
Support file (Player) DSF, DFF, FLAC, WAV, ALAC, AIFF, AAC
Sampling rate (Server) 44.1K, 48K, 88.2K, 96K, 176K, 192K, 384K, 2.8M, 5.6M, 11.3M
Sampling rate (Player) 44.1K, 48K, 88.2K, 96K, 176K, 192K, 384K, 2.8M, 5.6M, 11.3M
Bit rate 16-32bit (PCM), 1bit (DSD)
Media Server Twonky Media Server, Minim Server (optional)
Terminals
LAN (1000BASE-T)
Player (1000BASE-T)
Backup (USB 3.0, rear panel)
Expansion (USB 3.0, rear panel)
USB3.0 (rear panel)
USB-DAC (USB 2.0, rear panel)
Dedicated ground terminal
LAN (1000BASE-T)
Player (1000BASE-T)
Backup (USB 3.0, rear panel)
Expansion (USB 3.0, rear panel)
USB 3.0 (rear panel)
USB-DAC (USB 2.0, rear panel)
USB 2.0 (front panel)
Ground connectable bolt
Power supply unit
Separated units
1. For Main Board Devices
2. For SATA Disk Devices
30 W x 2 with capacitor bank
60 W x1
Drives Selected SSD 2TB x 2 Selected 2.5inch HDD 3TB x 2 Selected 3.5inch HDD 2TB x 2
Case Thick aluminum case Aluminum front panel & Metal chassis
Size
350 x 75 x 370 mm
(13.8 x 3.0 x 14.6 in)
436x70x352 mm
(17.2×2.8×13.9 in)
Weight 9kg (19.8 lb) 8.1kg (17.9 lb) 7kg (15.5 lb)
Original MELCO Music Library
N1 series is the original music library model since 2014. There are 2 range in N1 series – N1Z and N1A. N1Z is 350mm wide with internal 2 power channel. N1A is 436 wide with internal 1 power channel. N1Z has HDD and SSD models. N1A is HDD model only. Although there are hardware differences, the functionality is almost equivalent.
MELCO N1 Software
Melco N1 is audiophile grade source components to access, store and deliver Hi-Res Digital Music without any of the compromises of computers and their peripherals. They are both music store and UPnP server for Ethernet connected streaming solutions, and are also a source for a USB connected DAC. When connected to an USB-DAC, the internal player can be controlled directly from the front panel as well as by network App. The USB-DAC player supports DSD as both DoP and as Markerless DSD (Not DoP). There is no need for a PC in order to setup or manage the system and there is no data switch or IT device in the signal path to come between you and your music.
Direct Hi-Res Music Download
– Simply add your existing account ID and password on the front display, then purchase music on the vendor web site. The Melco will
automatically download any pending music purchases and will also apply CRC check to ensure no data corruption.
– No need for a download computer with risk of data corruption and need to then move the music from the PC to the Melco.
– Download High-Res Music to Melco Digital Music Library.
– Current download partner:
HIGH RES AUDIO.COM (Germany): https://www.highresaudio.com/
Support for USB/CD/DVD/BD drives
Melco will import or play music from a USB connected optical drive.
Optical drive is automatically recognised – no setup or configuration.
Import compatibility
– CD-DA/CD Extra/Mixed-Mode CD are supported.
– Gracenote Metadata and High Resolution Cover-Art
* Cover-Arts can't be copied/moved
– Support for DATA Disc
– Imported CD is automatically placed into import_CD folder for easy music management.
– Menu items allows for setting of CD loader offsets for bit perfect import.
– Compatible CD Drives
MELCO, D100
Pioneer, BDR-S09J-X
Buffalo, BRXL-16U3
Other Drives may work with N1. Please check with your dealer.
– Compatible USB HDD Drives
MELCO, E100
BUFFALO, HD-PNF Series
Other USB 2.0/ 3.0 USB HDD/SSD drives may work with N1. Please check with your dealer.
N1Z
Melco N1Z is the flagship model. True audiophile source components designed for both Ethernet connected Players (Streamers) and for connection to a USB connected DAC.
The N1Z is constructed as a true Hi-Fi source component with heavy anodised aluminium chassis sections bead blasted to a delightful finish, and with an internal rigid H frame to isolate vibration and isolate the various sections of the hardware.
Twin power supplies with additional capacitor banks with audio grade film capacitors isolate the HDD from the data processing, and multiple stages of noise reduction and isolation ensure the quietest possible environment for the sensitive electronics.
A precision low jitter clock handles the data flow whether to the USB-DAC or the Ethernet player.
The drives are mounted on massive non-magnetic foundation plate, and the N1ZS uses SSD with stable thick base plates and shielded top cover . The N1ZH has SFF drives – which have much less electrical noise than conventional 3.5 inch HDD.
Operation of the N1Z is very convenient, with a dedicated Neutrik USB 2.0 port for a DAC, and then 3 USB 3.0 ports for Easy Backup, Easy Expansion, Easy Import of CD or from USB drives, and Easy Play without import from USB drives or CD loader so that a legacy CD collection can benefit from the latest DAC technology. All without any requirement for a PC or any IT type devices in the audio system.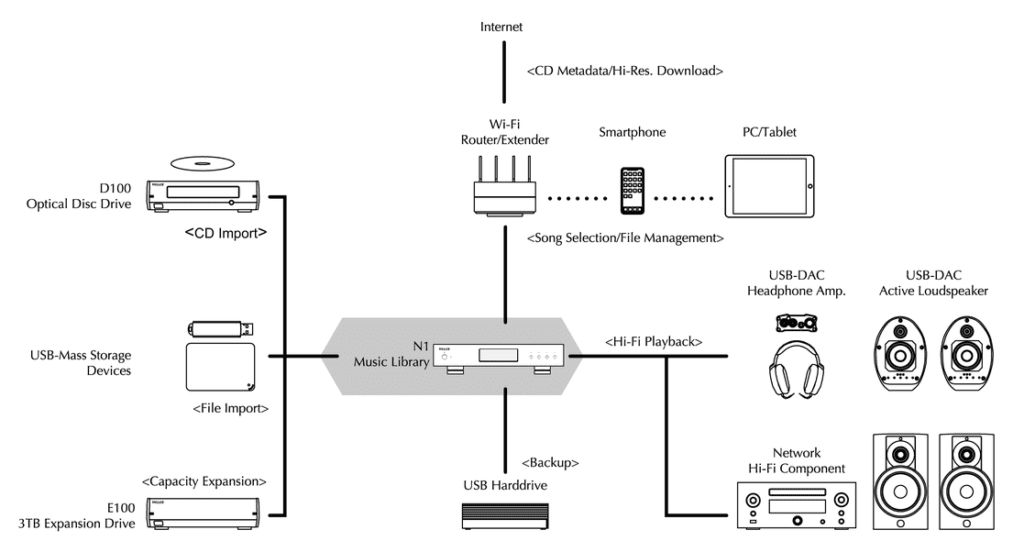 Unlike PC based system, simple and high quality Audio Component
Unlike PC based systems, Melco has a dedicated PLAYER port. This allows connection directly to the network Streamer or Player without any data switch in the signal path which would damage the music data.
This direct connection concept we call Direct Streaming Music – DSM – and it is unique to Melco as in conjunction with the Ethernet purifier between the LAN and PLAYER ports DSM ensures that the Player receives only clean and accurate data, all packets are timed with low-jitter precision and all unwanted traffic is blocked. LAN lights can be disabled for highest possible data integrity.
There are two methods of operation – Network Mode is the default and allows a Tablet connected to the Wi-Fi to control the player as normal. But for ultra-pure music playback DIRECT MODE can be selected – in this case there is no need for any external Ethernet or IT components, and the Melco acts as DHCP server to the Player. Browsing and control is then from the player front panel.
– The Local USB-DAC player can be used in the same manner as the Network Player. The Local USB-DAC player is simply controlled from
a UPnP Control App on a Smartphone or Tablet on the network. The App discovers the N1 – DAC as a Digital Media Renderer or Player
on the Network as soon as a DAC is connected to the N1.
– The N1 is connected to various Hi-Fi USB-DAC using a standard USB lead. >Compatibility list
– The N1 Local USB-DAC Player supports PCM up to 384 kHz / 32 bit, and DSD up to 11.3 MHz Quad DSD.
– Automatic sample rate adjustment to match the capabilities of the connected DAC – e.g. 192 kHz is automatically downsampled to play on
a 96 kHz capable DAC.
– Automatic conversion of DSD to 32 bit PCM for USB DAC that does not support DSD. (Manual setting in the Menu)
– The Melco Local USB-DAC player can be easily controlled by your favorite UPnP control Point (App).
– The Playlist can be stored either on N1 (Mode 1) to allow the playlist to be maintained even if the App is out of contact, or the Playlist is
stored on the App (Mode 0) when the App requires it.
Confirmed App
Model 0: MELCO Music HD, Bubble UPnP, mConnect
Model 1: Bubble UPnP, Kazoo
– Supports saving `now playing` playlist in control apps to N1 in mode 1 with USB-DAC connection.
* To delete saved playlist, PC / Mac / CIFS compatible application is necessary.
– Supports managing internet radio URLs to m3u files, by saving m3u files to N1's share folder: selecting from 'playlist` in navigation tree to listen to the internet radio while using USB-DAC connection.
* Reception of internet radio is not supported / guaranteed.
– The Melco Local USB-DAC player will play Music stored on open shares on the Network in addition to music stored on the Melco.
– Gapless playback is supported. (WAV FLAC AIFF ALAC, streaming music may not support gapless playback at some environment)
– Melco Direct Local Play – browse and play music directly from the front panel without any requirement for an App or Ethernet connection. Support Repeat and Shuffle playback.
– CD transport – A CD loaded into the optical drive offers choice to IMPORT or PLAY. Selecting PLAY – the N1 functions as a high-end CD player allowing use of the latest USB-DAC technology with control from the front panel and informative display on the front panel OELD. Support Repeat and Shuffle playback.
– MELCO Markerless DSD Playback (Not DoP) – DSD file is played without PCM marking if the connected USB-DAC supports Markerless DSD playback. Check the compatible USB-DAC.
"DSD over PCM priority mode" applies DoP playback even if a connected USB-DAC supports Markerless DSD playback.
Additionally, "Legacy" mode will work as previous firmware Ver 3.00-3.21 Local USB-DAC Player.
– TIDAL support – play songs from streaming service on the connected USB-DAC.*
Compatible App to play from streaming service: Bubble UPnP (Android only), Kazoo, mconnect
*The available streaming service will vary depending on country.
– No PC required for setup and installation – no specialist knowledge needed.
– Pre-installed media server – no configuration required.
– Supports multiple specialised media servers – currently shipping with Twonky 8.5 with DSD support.
* Supports reading bit depth of FLAC/WAV/DSF/DSDIFF files, navigation tree `format` folder supports selecting folders by sample rate e.g.
`44.1KHz/16bit` or `44.1KHz/24bit`.
* Navigation tree folder `Year` changed to `Decade`, this decade folder is selectable from both `Decades` and `Genre`, like `Decade > 80`s > !
ALL ! / ! By Year ! / Rock`.
* Supports data scan in expansion HDD while connecting HDD to EXPANSION PORT. It is recommended to turn off the N1 before removing the
expansion HDD.
* Supports multiple languages setting table on Twonky Server management screen via browser.
– Informative OLED front panel display – displays current streaming track data, system status, and setup.
– Simple menu navigation structure and track selection.
– `Support` is newly added in menu top list for capturing operating environment information of N1 and saving this file to N1 share folder
automatically for technical support use.
* By sending this file to us, we can check the detail status of your N1.
– Added new menu items in `Media Server`.
*`IndexView For Client` is available for changing navigation tree mode.
*`Duplicate removal for Title` is available for displaying only one music song if titles are duplicated. *Default setting is ON.
*`Twonky Service` is selectable for `ON/OFF`. OFF setting will stop the file distribution function when not playing music data saved in N1 or
using the N1 as media player. As a result, this setting will disable functions such as `Browse Songs` `Update Music Database` and music titles
will not be displayed on the screen.