Technical Specification
Compact DSP controlled monitor speaker
4x 6.5″ woofer,
1×5″ midrange,
1″ waveguided tweeter, all individually driven
Amplification: 6 x 250W full-custom Ncore
Active Wave Focusing crossover filter
Frequency response: – 25 kHz
Bass extension -3dB@30Hz, -6dB@20Hz.
Response flatness +/- 0.5dB (1/12th octave)
Phase response: minimum (best possible time coherence).
Long term SPL(*): 105dB
Short term SPL(*): 110dBPeak
SPL: 115dB
Controlled Directivity: 4.8dB (80Hz – 1kHz, slowly rising thereafter)
Size: 20x40x40cm, 8″x16″x16″ (WxHxD)
Weight: 19 KG
Inputs: Analogue, AES/EBU
SPDIF, TOSLink, USB on Kii Control.
Selectable correction for free-standing, near wall or in corner
(*)IEC60268-5 Paragraph 20.6
"Specifications are subject to change without notice"
Register your product and extend your warranty to 5 years for free!(This extension is strictly limited to the original owner and not transferable)
Connector panel from left to right:
XLR Input – this can provide either analog or digital Input depending how the select switch is set
Select switch (3 positions) – chooses between AES left channel / Analog / AES right channel Input
KiiLink Digital Input on CAT5 – used to connect the two speakers & future Kii products
KiiLink Digital Thru on CAT5 – used to connect the two speakers when using a single AES Input
Boundary switch – can be set to 16 positions between free / wall / corner to optimize setup
Contour switch – provides flat setting + 14 different preset EQ curves to match the listeners taste
Mains Power Connector – plug in your power cable and go, the Kii Three has no power switch
MER INFORMATION HÄR
Kii Technology
Each Kii THREE contains six channels of DSP, D/A conversion and power amplification. Few companies could pull off such a densely packed design with truly world class performance electronics. But then again, few active speakers are designed by people who have previously turned high end power amplification and digital conversion around.
Each Kii Three holds 6x250W power amplifier boards, designed by Bruno Putzeys using the latest iteration of the Ncore class D technology which he invented for Hypex. Unique to the implementation used in the Kii Three is a combined voltage/current control loop that goes beyond merely a better amp – it actively improves the distortion performance of the drive units which contributes significantly to the extreme resolution of the speaker.
Naturally, this means that the performance of the AD/DA conversion has to match that of the amps. This task fell to Bart van der Laan who has a long track record designing DSP and converter boards for high-end professional audio equipment. Kii Audio's implementation is a runaway success: a complete pass through the AD/DA circuitry of the Three's signal processing board is entirely inaudible, a feat not duplicated by the most expensive audiophile standalone units.
Alongside the Active Wave Focusing filters the DSP is responsible for keeping the drive units within their safe operating range by gently adapting the filters instead of brutally limiting the signal, allowing the Three to play significantly louder and cleaner than much bigger traditional designs.
On the input side there is a choice of analogue, digital inputs. All digital inputs are up-sampled and reclocked using Kii's own jitter rejection algorithm that guarantees actual "bits is bits" audio performance for any digital source.
The electronics package alone sets a milestone. What it does in concert with the unique acoustic design defies imagination. You have to hear it to realise the magnitude of the revolution the Kii Threerepresents.
The Secret of Big Speakers
Kii's mission for the Three was to break the sonic mould of compact speakers. Powerful small speakers with deep bass have been around for a while now but none so far sounded like a big speaker. The Three is built to fix that.
Basic acoustics tells us that a classic box speaker only directs sound towards the listeners from the midrange up while bass frequencies are radiated all around. The frequency where this change happens depends on the size of the box front (the "baffle"). The smaller the baffle, the higher the frequency at which bass is still radiated all around instead of directed towards the listener.
That in short is why big speakers have so far delivered much more precise timing and detail in the bass and low mids than small speakers: the room gets less chance to interfere. And that is what Kii has now managed to make a compact speaker do.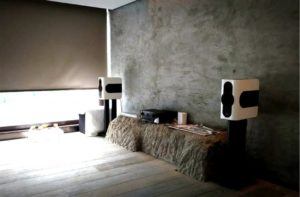 Jacob Collier talks about his Kii Threes
Jacob Collier is a two-time GRAMMY award-winning singer, composer, arranger, producer and multi-instrumentalist, based in London, England. Dubbed by many as one of the most innovative creative musicians of his generation, Jacob first rose to popularity through the virality of his homemade multi-track YouTube videos.
In these, Jacob re-creates well-known songs, layering multiple voices and instruments on top of one another, and visualizes these with a multi-Jacob mosaic split-screen layout.
Collier's musical style fuses elements of jazz, a cappella, groove, folk, electronic music, classical music, gospel, soul and improvisation, and often features extreme use of re-harmonization. Since his inaugural video in 2011, Jacob's online social channels have garnered over 300K international followers and more than 13 million YouTube views.
His viral hits, such as his rendition of Stevie Wonder's "Don't You Worry 'Bout A Thing", also made him popular among the Jazz community. Some legendary fans include Quincy Jones, Herbie Hancock, Pat Metheny, Chick Corea, and Take 6, to name a few.
The Kii system in your home
Hidden behind the beauty of the Kii Three is an amazing speaker that is small enough to fit easily into modern living spaces. It doesn't take over your habitat like a huge old audiophile setup, there are no racks, no big towers, no cables to trip over. Instead, there's intelligence!
Not only do we use current technology to build a modern active speaker system, but we advance technology from the ground up where necessary and we employ it in ways no one has done before. What may appear to be a cute pair of speakers at first sight, is really a powerful audiophile system that effortlessly outperforms all others, regardless of price.
The clarity and detail, the impressive time coherence and most importantly the handling of the room acoustics let the listener dive right into the magical experience of a great record, more so than even the best conventional setups are able to. All the innovations inside this speaker serve one single purpose: to be more truthful to the music!
Kii brings more music into your life. Let's face it: buying a second system for daily use because the "big" system is too impractical for background listening was never a solution. Even the best Hi-Fi set should be easy and intuitive to use for anyone in the house. Whenever there's music on your mind, there should be great music in your home.
The Kii Three HiFi Stands
Perfectly designed to go with the Kii Three is the Kii Threestand. The stands are made out of high quality steel and are powdercoated in black RAL 9005. The tubes are sand fillable to eliminate eventual resonances and vibrations. They are 27,5 Inches tall to fit the perfect home listening height and come with M8 spikes. To ensure a stable sit, the top plate is a perfect fit for the recessed bottom plate of the Kii Three.
The Kii Three colors
The Kii THREE comes in two standard color schemes.
– High Gloss White
– Graphite Satin Metallic
Any custom color can be ordered at a surcharge.
To perfectly fit the Kii THREE into your living room, you can choose any color that suits your taste. You have a choice of finish between high gloss, matt or metallic.
The brushed aluminum covers always stay the same color. They are anodized in black to match the stands.
Upgrade your Kii Threes"]
Kii Three BXT
The BXT is an extension module which turns the Kii Three into a veritable floor standing loudspeaker with 16 additional drivers and a total of 7000 Watts.
Kii Three BXT System:
Floor standing DSP controlled High-End playback system.
Consisting of:
2 x Kii THREE speakers in high gloss white, graphite matt metallic or any custom color of your choice
2 x BXT modules in the same or a contrasting color
1 x Kii Control offers volume control, input selection with touch switch operation, additional software menu, OLED display and is IR ready.
Inputs: USB, SPDIF, TOSLINK, AES, ANALOGUE
All necessary cables are included
Elegant but powerful
Kii Three BXT System in glossy white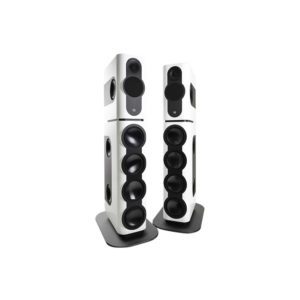 The BXT makes full use of the Kii Threes technology and adds more frequency range and SPL to the game while still being a cardioid system that, despite its size, does not interact with the room. Astoundingly enough small rooms profit a lot from the line source concept.
Please note that existing Kii Threes can be upgraded at any time with the BXTs giving you full investment security. Also the Kii Threes are still transportable and can be run by themselves just by detaching them from the BXT. The Kii Threes will detect the presence of a BXT and automatically adjust the software accordingly.
Extra accessories
Please contact us if you want to order a pair of floor stands or wall brackets!