OS Rose OS Ver 1.22.4 (based on Customized Android 7.1)
Design
Size 430(W) x 316(D) x 123(H) mm
Weight 13 kg
Body Milled from Solid Block of High Purity Aluminum, Minimizing Vibrations and Noise.
Display 14.9-inch-Wide HD IPS Touch Screen LCD
CPUHexa Core CPU
Dual-core Cortex-A72 up to 1.8GHz
Quad-core Cortex-A53 up to 1.4GHz
GPU Mali-T864 GPU, OpenGL ES 1.1/2.0/3.0/3.1, OenVG1.1, OpenCL, DX11
MEMORY LPDDR3 4GByte
DAC
DAC Specs Asahi Kasei VERITA AK4499EQ
Resolution : 32-bit
Sampling Rate : 8 to 768kHz
Native DSD Support : 22.5792Mhz ( DSD64, DSD128, DSD256, DSD512 )
VELVET SOUND Technology Supported.
THD-N : -124dB, Dynamic Range, S/N : 134dB
Output Level Unbalanced 4.5Vrms
Balanced 9.0Vrms (No load Condition)
Signal to Noise Ratio
Measure Unbalanced 117dB @ 1kHz
Balanced 120dB @ 1kHz
* SNR (Signal to Noise Ratio) : Higher SNR ratio provides clearer sound
THD+N Measure Unbalanced 0.0005% @ 1kHz
Balanced 0.0003% @ 1kHz
* THD+N (THD + Noise, Distortion Rate) : Lower Distortion late is better for the sound quality.
THD Measure Unbalanced 0.0003% @ 1kHz
Balanced 0.0002% @ 1kHz
Network connection
Network Wired : Ethernet 10/100/1000 BASE-T
Wireless : External USB type WiFi Dongle supported
Bluetooth BT : External USB type BT WiFi Dongle supported. ( A2DP Sink, AVRCP v1.3 )
* A few types of WiFi, BT dongle is not supported.
Audio service
Streaming Airplay / DLNA / Roon Ready / MQA Full Decoder
Music service TIDAL / Internet Radio / Podcast
Input, Output
Audio input Optical x 1, COAX x 1, Line-IN x 1, AES/EBU x 1, HDMI ARC x 1, USB DAC x 1,
Audio output Optical x 1, COAX x 1, Pre-OUT (Balanced x 1, Unbalanced x 1), I2S-DVI x 1,I2S-RJ45 x 1, AES/EBU x 1,
Video output HDMI 2.0x 1 ( up to 3840 x 2160 / 60Hz )
Media connection File system : SMBv1, SMBv2 /FTP / WebDav / NTFS / eXfat / FAT32
Storage interface : USB3.0 x 2, MicroSD x 1, SSD x 1
Supported codec
Audio WAV, FLAC, AIFF, WMA, MP3, OGG, APE, DFF, DSF, AAC, CDA, AMR, APE, EC3, E-EC3, MID, MPL, MP2, MPC, MPGA, M4A
PCM : 8KHz~384KHz(8/16/24/32bit per Sample)
Native DSD: DSD64(2.8MHz)/DSD128(5.6MHz)/DSD256(11.2MHz)/ DSD512(22.5792Mhz)
Video ASF, AVI, MKV, MP4, WMV, MPEG-1, MPEG-2, MPEG-4 H.263, H.264, H.265, VC-1, VP9, VP8, MVC
H.264/AVC, Base/Main/High/High10 profile@level5.1 up to 4Kx2K@30fps
H.265/HEVC, Main/Main10 profile@ level 5.1 High-tier up to 4Kx2K@60fps
Power Input Voltage : AC100-230V 50/60Hz
Input Power : 55W Fuse : T3.0AL/250V
Update SW update via internet, USB OTA, ROSE Store
Remote control
Remote controller Bluetooth Remote controller
Remote App ROSE Connect (Android, iOS) / Google PlayStore, App Store
Accessory Power cord x 1, Bluetooth Remote controller x 1 (AAA battery x 2), Simple Guide x 1,
SSD screw x 4, Bluetooth/WiFi dongle x 1 (sold separately)
State-of-the-art DAC Setting
Integrated with Asahi Kasei's flagship DAC chip AK4499EQ, the RS150 offers low noise, low distortion, ultra-high-resolution sound and analog rich density with proprietary processing supporting PCM 32bit / 768KHz and Native DSD512 (22.5792Mhz).
Analog Acoustic Sensitivities
Delivers the musical inspiration from high-quality sound by the tuning of Acoustic engineers with thirty years of experience. 
Clearly expresses the full range, from grand, and rich bass to delicate, and elegant highs.
Linear Power System and Ideal Circuit system
Linear power supply minimizes noise inflow significantly. Ideal circuit system eliminates electrical noise, and creates dramatically improved sound quality without distortion.
Highly Precise Femto Clock
The highly precise Femto clock delivers superb stereoscopic, and distortion-free sound with quiet and clear background imaging.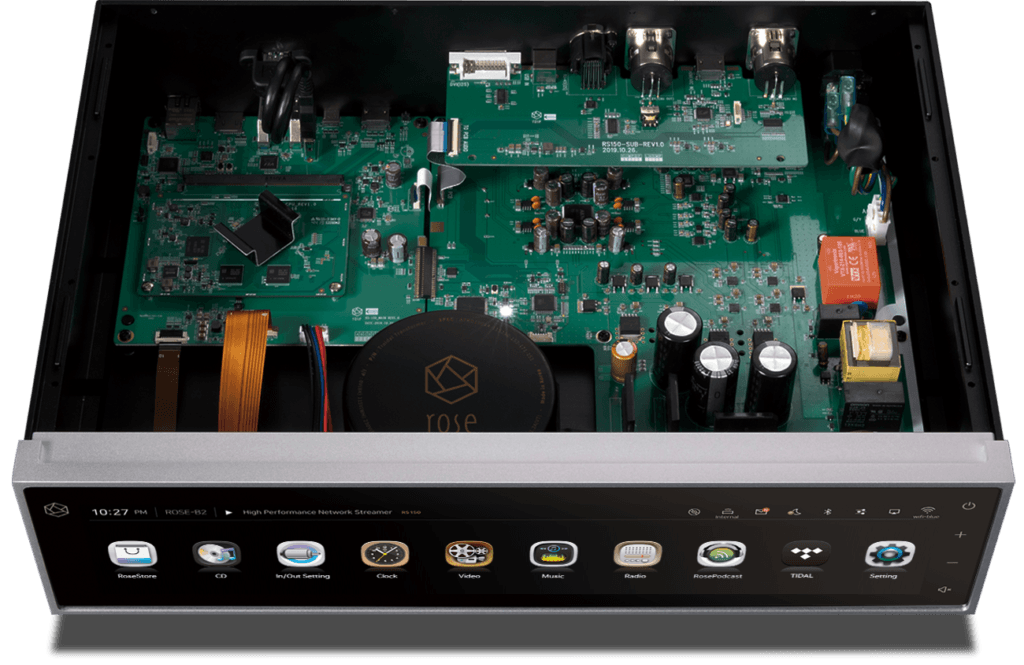 Case milled from Solid block of  High Purity Aluminum
The high-purity aluminum integrated into one piece to maximize thermal efficiency.
By minimizing parts in the assembly area, vibrations that can affect sound qualities are greatly reduced, creating a profound and ideal sense of space.
Ultra HD 4K Video Support
Watch Local or RoseTube video files in Ultra HD 4K quality on a large display with an HDMI connection. Feel the magnificent and vivid touch of the Opera House at home now.
14.9-Inch-Wide Touch Screen
Intuitive, and convenient interface through high-resolution IPS Multi-Touch panel. The front display can play album art and music videos in a wide viewing angle.
ROSE Connect Application
This intuitive and dedicated application allows users to play all music and videos from local and network sources.'
Innovative ROSE OS
HiFi Rose OS system provides an innovative musical experience. Stream and play ultra-high-quality music, 4K high-definition video, ad-free YouTube, Podcasts, various radio stations from around the world, CD playback/Ripping, and more.
Play music and video files on a local storage device (USB / MicroSD / SSD).
Also, you can build your home network library with a NAS connection.
It is possible to categorize your music in numerous ways.
MQA Certified
RS150 supports MQA full decoder technology. MQA (Master Quality Authenticated) is an award-winning British technology that delivers the sound of the original master recording. The master MQA file is fully authenticated and is small enough to stream or download.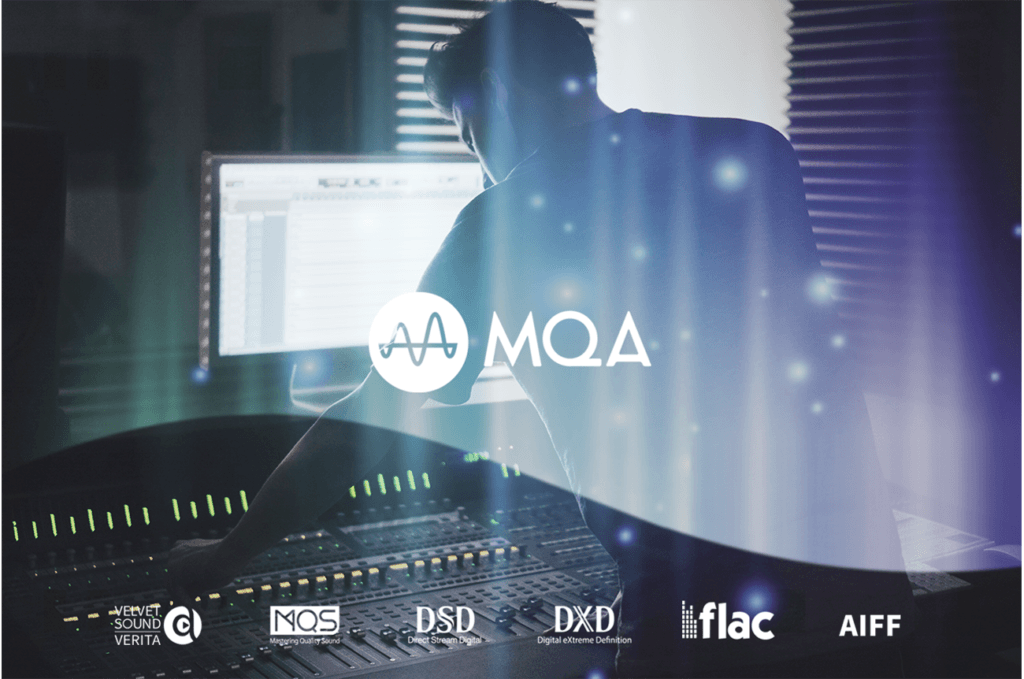 Built-in Tidal App for high-performance streaming service.
Easily integrate all existing features, such as sign-in, playlist, and playback.
* Future updates will provide additional Hi-Fi streaming services, such as Spotify, Qobuz, and Deezer.
Roon is an incredibly rich and engaging way to browse and organize your music.
It runs on most Mac, Windows, and Linux PCs, or on other products which include Roon Core.
Being Roon Ready means that HiFi rose network players transparently discover and connect to Roon without any configuration, and bit-perfect audio is delivered from Roon to your network player.
Together, Roon and HiFi rose deliver the power, flexibility, and performance of networked audio, with the easiest setup and highest reliability available.
Learn more about Roon partner programs.
By connecting an external CD-Rom Drive via USB, spontaneous CD playback is possible. 
You can extract music files stored on a CD and save them to SSD, USB, or MicroSD.
Listen to more than 990 Internet radio stations from around the world.
Register and listen to your favorite channel.  It also offers podcast channels, provided by iTunes.
Wired/Wireless Connection Seamless streaming over the network is possible.
It supports Airplay and DLNA functions and can connected to smartphones,  computers and tablet PCs via Wi-Fi / Giga Ethernet / Bluetooth communication.