Vi kommer att göra vårt bästa för snabb och säker leverans.
Tveka inte att höra av dig om du har frågor.

Specifications
Dimensions - 91 ⁄4" (23.36 cm) W x 183 ⁄4" (47.6 cm) D x 58" (147.27 cm) H (height is with base installed, no spikes)
Base: 13-5/8" W x 22-1/4" D
Weight - 108 lbs (49.8 kg)
Frequency Response - 12 Hz – 35 kHz
Efficiency - 93.25 dB
Nominal Impedance - Compatible with 8 ohms
Driver Complement -
Three 6" x10" long-throw quadratic Reference subwoofers, coupled to:
Four - 9-1/2"x10-1/2" Quadratic Planar Infrasonic Radiators
Two - 6˝ High-Definition Cast-Basket Reference Mid/Bass Drivers, One High-Gauss Reference High-Velocity Folded Ribbon (HVFR™) Tweeter
Recommended Amplification - 20 – 750 watt/channel
More ABOUT TRITON REFERENCE HERE
Triton Tower Speakers Overview
The Triton Series Tower Speakers are high-performance loudspeakers, with the top four models including a built-in powered subwoofer. All the Triton Towers are engineered for superb performance in both high quality two channel stereo systems as well as in multi-channel home theater and music systems. Their sleek, elegantly curved and tapered design is not only gorgeous but is important from a performance perspective as well. Performance-wise, the Triton Towers all deliver boxless three-dimensional imaging, which reviewers have hailed as "mystical", "magical" - and, best summed up by the dramatic, "had us believing that the entire surface of the front wall was covered with speakers.". Likewise, the powerful, deep subwoofer bass blends perfectly with the silky smooth, utterly transparent midrange and high frequencies, putting many dramatically more expensive speakers to shame.
The powered subwoofer sections in each Triton Reference, Triton One.R, Two+ and Three+ incorporate a high power GoldenEar digital amplifier. The amplifier's DSP design not only yields extremely linear and low distortion response, but also dynamically controls operating parameters for optimum performance. The amp drives up to three front-mounted quadratic subwoofer bass drivers which are coupled to multiple side-mounted quadratic planar infrasonic bass radiators. The result is awe-inspiring bass, which delivers both musical subtlety as well as room-shaking authority. The advantages of building the subwoofers into the Tritons are many. First, of course, this eliminates the need for additional subwoofer boxes in the room. But more important are the performance advantages. By engineering the subwoofer as an integral part to the speaker, we get far superior integration and blending than can be achieved with separate subwoofers, even when using two. The two subwoofers in a pair of Tritons couple better to the air in the room, helping to better deal with the room's eigenmodes and smooth out response. Of course, the dual subwoofers are also intrinsically more powerful and couple together synergistically for more truly exceptional bass.
The hallmark of all GoldenEar speakers, the Triton Tower Speakers all utilize our High-Velocity Folded Ribbon (HVFR™) tweeter design. The HVFR tweeter propagates sound waves and moves the air by squeezing it with its accordion-like pleated diaphragm, rather than pushing it as conventional drivers do. Greater efficiency, lower distortion, improved dynamics and superbly detailed sound are the result of this amazing technology. And every Triton Tower utilizes our amazing spider-leg, cast-basket mid/bass drivers with proprietary computer optimized cone design that assures smooth, extended response.
The Triton Towers' striking, but harmoniously minimalist design, can fit nicely into a great variety of decors while going almost unnoticed. Their sleek, narrow baffle, sophisticated look also helps the speakers create truly magnificent 3D imaging with tremendous depth, height and width that extends well beyond the loudspeakers themselves. As with all GoldenEar speakers, development work is conducted at our Arnprior, Canada engineering facility utilizing our full-size anechoic chamber, which is an exact duplicate of the chamber at the NRC in Ottawa Canada, in combination with intense critical listening.
Visually, the flagship Triton Reference and the Triton One.R offer a strikingly beautiful upgrade to the classic Triton styling, with a gorgeous hand-rubbed piano gloss-black lacquer finished one-piece monocoque cabinet. Sleek, statuesque and refined, the Triton Reference is simply a gorgeous statement piece that will excite listeners with its dynamic visual presence, as well as its extraordinary sonic performance. Click here, or the Reference tab above, for information on the Triton Reference. The Triton Two+, Three+ Five and Seven Towers are beautifully finished with an elegant black designer cloth, piano-black base and top cap.
GoldenEar's™ Triton Reference Redefines Ultra High-End Performance and Value!
GoldenEar's™ Triton One is one of the best selling high-end loudspeakers ever, consistently thrilling listeners and reviewers alike, while achieving stupendous and previously unheard-of sales velocity for a loudspeaker in its price range. And, of equal importance, the One garnered an enviable and unmatched collection of the industry's most prestigious awards, including Loudspeaker-of-the-Year or Product-of-the-Year from key publications all around the world.
Clearly, we knew that the One would be a very hard act to follow.
There was a spirited discussion within our product development group about an all-out assault on the ultimate state of the art, producing a six-figure loudspeaker to do battle with the most esoteric and expensive loudspeakers on the planet. However, after much soul-searching, rational minds won out, and the decision was made to create a new GoldenEar flagship that would joust with the best, but would still stick to our trademarked slogan, "We Make HighEnd Affordable." We are pleased and proud to introduce the new Triton Reference, a loudspeaker destined to raise the bar and set a completely new performance standard for reasonably priced, affordable loudspeakers.
The Reference has already begun gathering its own collection of honors, having just won the prestigious and coveted CES (the annual international Consumer Electronics Show) Innovations Design and Engineering Award, Digital Trends Best Home Audio Tech at CES, HD GURU Best High Fidelity Loudspeaker at CES and What HiFi Stars of CES!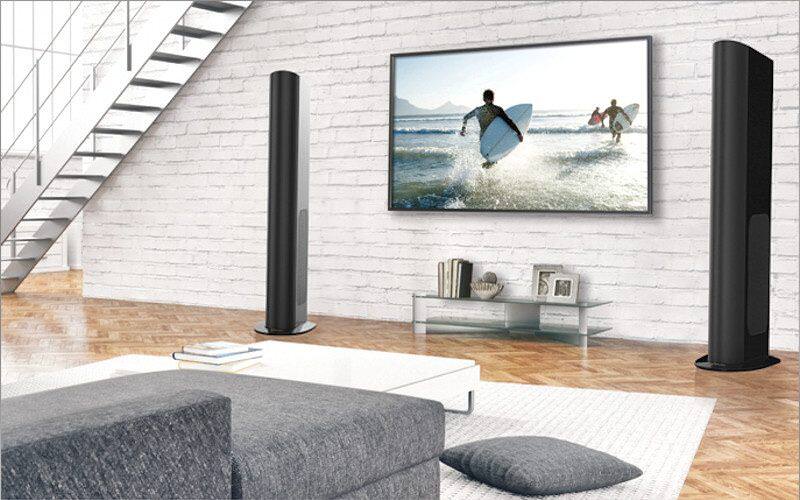 GOLDENEAR'S TRITON REFERENCE
The Triton Reference is an evolution of everything that we have achieved with the Triton One, but taken to a stunning new level of sonic performance and sophisticated visual design. All the components in the T Ref: including the larger active sub-bass drivers with huge Focused Field™ magnet structures, upper-bass/ midrange drivers also with Focused Field magnet structures, and GoldenEar's signature high-velocity folded ribbon tweeter with 50% more rare earth neodymium magnet material, are brand new and have been specifically developed for use in the Reference. The powerful 1800 watt subwoofer amplifier, with level control to fine tune the bass to your room, and 56-bit DSP control unit are an evolution of those used in the Triton One and our SuperSubs.
A GRAND SLAM … all 4 Absolute Sound writers at
CES (NG, RH, JM, JV) honored Triton Reference as their "Best Sound (for the money)" at the show!
The new 6" upper/bass/midrange drivers are cast-basket units that incorporate a low-mass voice coil and a newly developed cone with unique low-mass bonding to the butyl rubber surround for improved transient response. In addition, they have a large, newly designed, specially engineered Focused Field magnet structure, which better directs the magnet flux to the voice coil gap.
The newly engineered 6" x 10" active low-frequency drivers for the built-in powered subwoofers have 40% more surface area than the active drivers used in the Triton One, along with a larger diameter voice coil and an even more massive magnet structure which also utilizes our Focused Field technology.
The new Reference High-Velocity Folded-Ribbon tweeter incorporates 50% more rare-earth neodymium magnet material than do our other HVFR tweeters, for improved transient response and
higher efficiency.
"BEST SPEAKERS heard at CES … GoldenEar
Triton Reference." ––Mike Mettler, Hi Res Audio Central
The four inertially balanced 10-1/4" x 9-1/2" side-mounted (two on each side), planar, infrasonic radiators are similar to those used in the SuperSub X, but with greater excursion.
There are a myriad of other significant upgrades and refinements, including: new internal wiring with a specially developed twist, further development of our signature balanced crossover including film capacitors bridged across the high-pass section on the upperbass/midrange drivers, a unique proprietary mix of long-fiber lamb's wool and Dacron for more effective internal damping, intensive work with a high-resolution accelerometer to determine the most effective implementation of complex internal bracing, a 3/32"-thick steel plate built into the medite base to further stiffen it for increased stability, which results in higher resolution of subtle details, new stainless steel floor spikes and cups … and the list goes on and on.
"… as a definitive PUT-UP-OR-SHUT-UP challenge to an industry increasingly disposed to selling staggeringly expensive products." ––Al Griffin, Sound&Vision
Visually, the Reference offers a strikingly beautiful upgrade to the classic Triton styling, with a gorgeous hand-rubbed piano gloss-black lacquer finished one-piece monocoque cabinet. Sleek, statuesque and refined, the Reference is simply a gorgeous statement piece that will excite listeners with its dynamic visual presence, as well as its extraordinary sonic performance.
Sonically, the Reference has been engineered to perform with a dramatic and authoritative voice, comparable to speakers that sell for 10 and more times its surprisingly affordable price.
They completely disappear, with superb three-dimensional imaging that stretches from wall to wall and beyond, and depth that makes the wall behind them seem to vanish. The astonishing bass is rocksolid with low-frequency performance that is tight, quick, highly impactful and musical with extension flat to 20 Hz and below.
Another GoldenEar signature is a silky smooth high end that extends to 35 kHz with a lifelike sheen but no trace of hardness, sibilance or stridency so common with lesser tweeters. Tremendous time and energy has been put into the voicing of the speaker and the seamless blending of the drivers, for unmatched musicality with all types of music, and home theater perfection.
Rarely do speakers excel at both, but with their world-class neutrality, the Reference absolutely does. A special bonus is the Reference's extremely high 93.25 dB sensitivity, which gives them tremendous dynamic range and allows use with almost any high-quality amplifier, including many SET tube amps.
Only logged in customers who have purchased this product may leave a review.