System Type – 2 ½ way, downwards firing port, with BassTraxTMTractrix diffuser. Twin cavity coupled reflex
Recommended amplifier power – (Watt RMS) 35- 150
Continuous power handling – (Watt RMS) 75
Sensitivity- (2.83 Volt @ 1m) 90dB
Nominal impedance – 8 Ohm
Frequency response – (-6dB typical in room) 36Hz- 34kHz
Drive unit complement – 1 x 150mm IsoFlareTM, multi-fibre bass / mid with 25mm titanium dome compression tweeter 1 x 150mm multi-paper bass
Crossover frequency – 250Hz & 1.7kHz
Crossover type – 2nd order low pass, 1st order high pass
Dimensions – HxWxD 984 x 200 x 320mm (38.8 x 7.9 x 12.6")
Weight – Each 18.9kg (41.7lb)
Finishes – Dark Oak / Black Oak
MER INFORMATION HÄR
The F501
The award winning F501 is the smaller of the two floorstanding loudspeakers in the F500 series but capable of delivering low bass and effortless dynamics from a compact, small footprint cabinet. Bringing additional scale and power to the F500 series' signature clarity and articulation, the 150mm (6″) proprietary IsoFlareTM driver is accompanied by a matched 150mm (6″) bass driver.
The IsoFlareTM driver delivers isotropic energy radiation with point source constant directivity providing outstanding stereo imaging, even off axis. Ideal for small to medium-sized rooms, the F501 is supplied with a dedicated plinth incorporating our BassTraxTM Tractrix diffuser system, which integrates bass energy uniformly into the room.
The luxuriously finished, contemporary styled cabinet is available in a choice of dark oak or black oak real wood veneer and piano gloss black or white. Enhancing its aesthetic appeal, it has a gently curved front and rear baffle which additionally benefits the acoustic performance by reducing colouration effects.
Meet the F500 Series
The F500 series is based around an IsoFlareTM point source drive unit; technology which our Technical Director, Dr. Paul Mills, has had considerable experience with. Our technical team, responsible for the audio performance and mechanical build of this type of driver, have many decades of experience between them.
Combining Fyne Audio's IsoFlareTM driver into a rigid cabinet, with a cleverly designed porting system, ensures optimal in-room performance.
Floor standing models in the F500 series use a rigid MDF plinth with large floor coupling spikes giving stability to ensure well-controlled bass performance and further enhancing stereo imaging. Additionally, the spikes can be adjusted from above the plinth allowing easier levelling of the speaker. The cabinets are crafted using real wood veneers and are available in choice of dark oak or black oak.
Basstrax port system
The bookshelf and floorstanding models employ an internal, downwards-firing port system. Below the port, a Tractrix profile diffuser (patent applied for) converts plain wave port energy to a spherical 360-degree wave front, integrating energy uniformly into the room. This clever design ensures that the loudspeaker is less critical of room positioning.
Crossover
Low-loss, laminated core inductors and audiophile-grade polypropylene capacitors are used exclusively throughout the F500 series crossovers. The result is an exceptionally clean signal path and very low crossover losses, ensuring the very best in detail resolution and musical communication.
Home theatre
The F500 range is as impressive with movies as it is music. FYNE AUDIO's point source driver technology is ideal for articulating the finest of movie detail with pin-point accuracy. High efficiency and high-power handling means the F500 series delivers an incredibly dynamic and lifelike performance whether you are listening to DTS Master Audio or Dolby True HD.
Point source technology
Point source driver technology is not new to Fyne Audio. Our technical team, responsible for the audio performance and mechanical build of the driver, have many decades of experience between them. Our proprietary IsoFlareTM design ensures constant directivity of the wave front generated, providing outstanding stereo imaging, even off axis.
Furthermore, a smooth and extended response is delivered thanks to the highly rigid titanium high frequency diaphragm which pushes the break up mode well above the level of human hearing.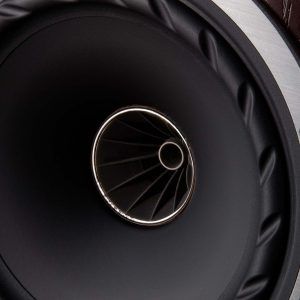 Performance
To fully optimise the driver's performance, every aspect of the meticulous design has been considered. A vented rear chamber in the Neodymium HF magnet places low frequency resonance well below crossover region.
The unique geometry of the high frequency unit's waveguide provides a flat frequency response and avoids internal reflections.
To eliminate unwanted vibrations, which would be detrimental to the sound quality, both the point source driver and the supplementary low frequency driver fitted to the floor standing models, are built around a rigid cast aluminium chassis.
Multifibre paper cones are used providing natural sounding midrange and clean transient behaviour. Cone energy is then very effectively terminated using a fluted rubber surround.
We may be a new name in audio but…
When you invest in a pair of FYNE AUDIO loudspeakers, you'll be pleased to know that the development of each product has been undertaken by an enthusiastic and experienced team who have been in the loudspeaker business for very many years.
At every level of the design process, be it acoustic know-how, mechanical engineering, choice of materials or manufacturing expertise, our loudspeakers have been tuned to offer best in class performance.