ALSYVOX model
TINTORETTO
BOTTICELLI
CARAVAGGIO
CARAVAGGIO
plus subwoofer
CARAVAGGIO subwoofer
MICHELANGELO
Speaker heigth (mm)
1440
1770
2030
2030
2030
2030
Baffle width (mm)
580
640
690
690+690
690
690+690+690
Baffle thickness (mm)
54
54
54
54
54
54
Woofer, MD, TW and STW height (m)
1.09
1.42
1.68
1.68
1.68
1.68
Number of Woofers
1
1
1
2
1
3
Woofers width (mm)
280
320
320
320
320
320
Woofers surface (cm2)
3052
4544
5376
10752
5376
16128
Woofers max stroke (mm)
18
20
20
20
20
20
Woofers air volume (cm3)
5494
9088
10752
21504
10752
32256
Midrange width (mm)
n/a
n/a
37 x 2
37 x 2
n/a
37 x 2
Mid Tweeter width (mm)
25
25
25
25
n/a
25
Super Tweeter width (mm)
5
5
5
5
n/a
5
Reference sensitivity (dB)
93
94
94
95
95
96
Crossover Frequencies (Hz)
750-5000
750-5000
500-1500-5000
70-500-1500-5000
70
70-500-1500-5000
Frequency Response (Hz)
25-40000
22-40000
22-40000
20-40000
20-400
18-40000
Nominal Impedance (Ohm)
4
4
4
4
4
4
Weight (Kg) just panels, not including external crossover
85
115
150
150+120
120
150+120+120
För uppgraderingar, externa filter med mera – kontakta oss.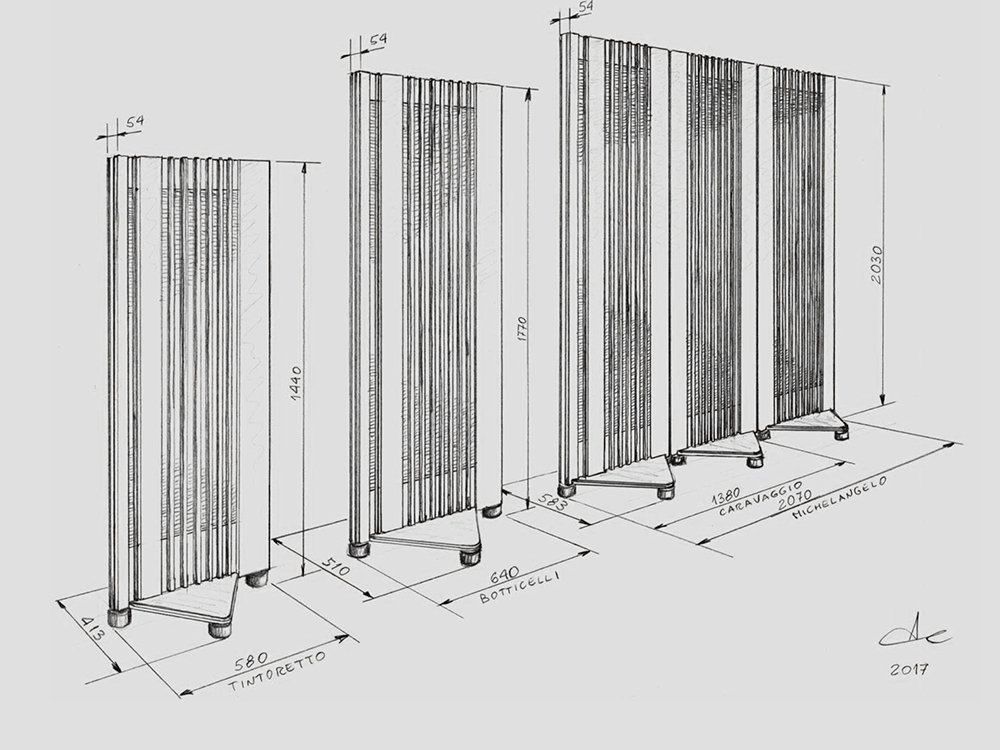 AlsyvoxTM audio design
Our designer is an Italian Aerospace Engineer, so Italian Design is a natural consequence.
Our speakers are made by hand with love, using exclusive and patented design. All critical parts are made by us, the other parts are sourced from the best worldwide suppliers, typically aesthetical parts are made in Italy, electrical parts are made in Germany, everything is assembled, carefully tested and signed by our chief engineer in our laboratories in Spain.
Our designer started in 1984 by studying the interaction of a dipolar speaker with the room walls using an array of conventional cone speakers mounted on a baffle.
A few years later he studied the technology of ribbon mid-tweeters to extend the line source concept to higher frequencies and in 1994 he designed a ribbon loudspeaker for RES Audio, the Sky 1. In 2005 he started using neodymium magnets for the Sky 2 to raise the sensitivity of the ribbon speaker.
In 2009 the revolutionary ribbon-planar woofer was born. It reached the same high sensitivity of the neodymium ribbon mid-tweeter thanks to a patented design and a proprietary mix of design skills, covering the technology to make diaphragms, magnet dimensioning, push-pull magnets and steel frame design.
In 2016 he developed a compact mid-tweeter + super-tweeter unit that is seaminglessly extending the frequency response beyond human listening threshold to improve sound harmonics and liveliness.
Using these three transducers the result is a breathtaking coherent sound as all the audio frequency band is covered by loudspeakers of the same height, made with the same diaphragm materials and magnets, with a sensitivity of 93dB or more.
FULL RANGE RIBBON LOUDSPEAKERS
"they do what your mother told you that a planar speaker could never do: really deep, undistorted and powerful bass"
The transparency and imaging of the best planar speakers.
The dynamics and low distortion of the best big horns.
The tonal balance of the best monitors
The efficiency you need to use almost any amplifier.
The authoritative bass of a big cone woofer.
All of this in a coherent sound like a single wide-range transducer.
There are two Italian words that sound very similar: diverti-diversi-bianco
DIVERTI means enjoy, give joy, fun and happiness while
DIVERSI means different, made in a different and unusual way.
We feel and give joy and wonder doing things in a different way.
For this reason we make loudspeakers in a different and non-conventional way: no cone woofer, no dome tweeter, no horn loaded midrange, no box, neither closed nor vented.
Our mission is to make loudspeakers that bring the musicians into your listening room.
To reach this goal we have experienced that the use of thin diaphragm ribbons and ribbon-planar transducers radiating sound as a dipolar (from both sides) line source is the best approach: the sound vibration is created with all its energy as well as all the details needed to fully respect its message.
The diaphragm moves exactly like a layer of air as it is crossed by the sound wave. This gives the sensation of transparency and the sound does not seem to come from the speakers, music is filling all our listening room, or even our house if it is an open loft, with the same coherence and tonal balance that you can experience in the classical center listening position.
All design choices were made to reach our goal, making in house all the critical parts with no cost compromise. With the typical Italian attention to style we have taken top care both in the design and in the quality of each detail.
All our speakers are dipoles that approximate the ideal concept of a line source. This is giving the best interaction with the room acoustics without the need for heavy room treatment and minimum influence on sound given by the listening position.
Top quality Mundorf components are used heavily in the cross-over to respect the information contained in the signal, including the very big binding posts, internal wiring is using Omega Audio Concepts NANO extra.
All our speakers use similar technology with push-pull ribbon (planar) woofer and an exclusive compact unit of ribbon mid-tweeter and ribbon super-tweeter with a frequency response well beyond the audio frequency top limit.
Extremely powerful magnets allow high sensitivity and dynamics.
Our ribbon woofers merge the typical wide surface of planar speakers with the long stroke of cone speakers. This is making an incredibly powerful low frequency response, together with all the typical benefits of planar speakers in terms of speed and micro-dynamics.
The push-pull design used in every transducer is creating low harmonic distortion and the proprietary diaphragms are powered on almost all the surface to create the best control and the reduction of all time domain distortions, the most harmful to the sound.
Heavy gauge steel is used for the structure and it is keeping the distortions related to the frame at the minimum, with the help of the considerable total weight and of our proprietary inertial feet that keep the energy reflected by the constraint to the floor as small as possible.
All the other materials used are chosen for their vibration damping behavior like acrylic plastic, PVC and precious solid teak wood.
All these features contribute to the incredible sense of sound out of the air as opposite to the sound out of the speakers, an amazing sense of effortless power and coherence throughout the audio spectrum, so that you can listen to the music and forget about loudspeakers and hi-fi equipment.
Our preferred standard finish is black glossy acrylic with natural teakwood profiles, but other colors and finishes can be made on request.
All models are broken-in and fine tuned by the designer, sold with a 5 year limited warranty that covers all defective parts with on site repair and shipped in custom made professional flight cases that can be used many times.
Tintoretto
Our smaller size model was not designed to be cheaper: all components are the same as in the bigger models, only the size is smaller to fit into smaller size rooms, from 15sqm (150sqft) to 50sqm (500sqft).
The two panels size is 0.58m (23″) wide and 1.44m (57″) height, with a total of 0.6sqm (6.5sqft) woofer surface on the two channels and weight of 85Kg (189lb) per channel.
High sensitivity of 93dB makes possible to use virtually any amplifier.
It is possible to upgrade Tintoretto to Tintoretto X just buying the 2 black acrylic passive external crossovers, just like Botticelli.
Botticelli
The best is in the middle ("In medio stat virtus" the Romans used to say) so in normal size rooms, from 25sqm (250sqft) to 100sqm (1000sqft) we recommend our BOTTICELLI model.
The two panels size is quite classical: 0.64m (25″) wide and 1.77m (70″) height, with a total of 0.9sqm (10sqft) woofer surface on the two channels and weight of 115Kg (255lb) per channel.
High sensitivity of 94dB makes possible to use virtually any amplifier.
It is possible to upgrade to Botticelli X buying the two external passive crossovers using an exclusive topology patent pending by OMEGA  AUDIO CONCEPTS, also umbilical connections between speaker and crossover are made with OMEGA AC NANO extra cables.
Caravaggio
Our CARAVAGGIO model is very exclusive and is made on request only. It is a 2 panels design (1 each channel) using 4 ways, 1 more compared to smaller models (ribbon- planar woofer, NEW ribbon midrange, ribbon tweeter and ribbon super-tweeter) on one panel per channel. Its width is 0.69m (27″) with a total height of 2.03m (80″), a weight of 150Kg (333lb) per channel excluding crossovers and a woofer surface of more than 1 sqm (11sqft) on the two channels. It comes with 2 very heavy external passive crossovers (Aluminum CNC machined billets using exclusive topology, patent pending by OMEGA AUDIO CONCEPTS, alternatively acrylic crossovers like the speakers are available) and umbilical connecting cables by OMEGA AC series NANO Extra.
Also a separate dedicated subwoofer panel (one each channel) is available and it is recommended only in very big rooms from 80sqm (88sqft).
High sensitivity of 95dB makes possible to use virtually any amplifier. It is recommended for rooms of 50sqm (500sqft) to 150sqm (1500sqft).
Michelangelo
We believe that size matters in sound reproduction.
Our top of the line MICHELANGELO model is very exclusive and is made on request only. It is a 6 panels design (3 each channel) using 4 ways (ribbon-planar woofer, NEW ribbon midrange, ribbon tweeter and ribbon super-tweeter) on one panel per channel and a ribbon-planar subwoofer on the other two panels per channel. This is making a considerable total width of 2.07m (81″) each channel divided into 3 panels of 0.69m (27″) with a total height of 2.03m (80″), a weight of 480Kg (1067lb) per channel including crossovers and a total woofer+subwoofer surface of more than 3 sqm (33sqft) on the two channels.
It is possible to upgrade from CARAVAGGIO to MICHELANGELO simply buying the additional two subwoofer panels (coming with two external passive crossovers).
It comes with 6 separate heavy CNC machined aluminum billet passive crossovers using a patent pending topology (by OMEGA AUDIO CONCEPTS) and umbilical connecting cables by OMEGA AC series NANO extra.
Bi-amping or multi-amping is not mandatory but possible. High sensitivity of 96dB makes possible to use virtually any amplifier. It is recommended for rooms bigger than 100sqm (1100sqft) and wider than 7.5m (25ft)