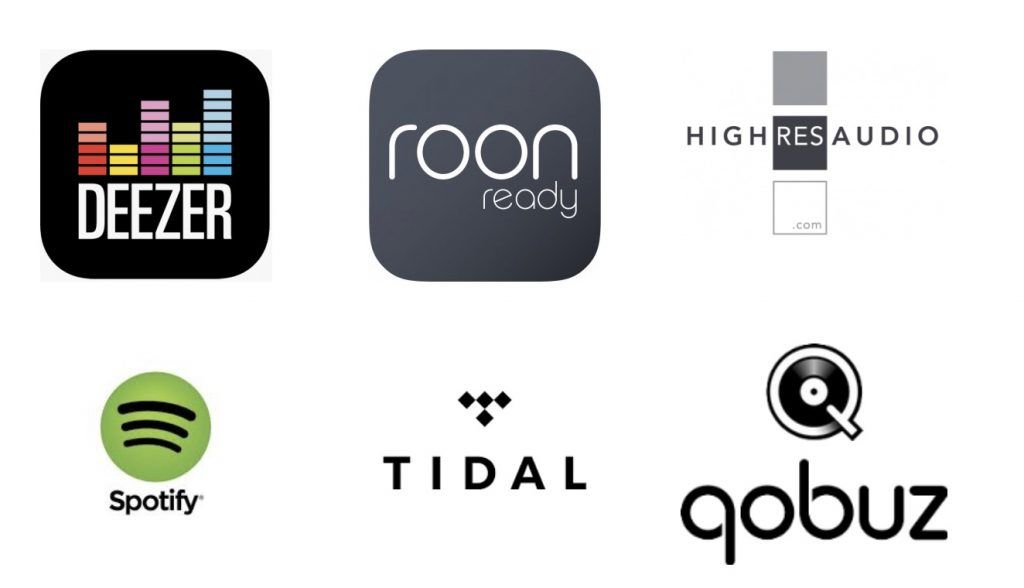 Läs mer här
The Lindemann App
Our custom-tailored controller app is good-looking, fast and clearly structured and offers maximum convenience for browsing and searching in streaming services.
The album-oriented programming allows to play back a complete album with just one push of a button! Save your favorites in playlists with the streaming providers or create a local playlist. Our app is available at the appstore for iOS and at Google Play for Android.
The new tablet version featuring a landscape mode looks particularly beautiful. And it's free to download, of course.
Specs
Network player
Ethernet: 100 Mbit/s
WLAN: Dual-band 802.11a/b/g/n/ac, WPS support
Bluetooth: 4.2, A2DP
USB: High-speed host interface for harddisks, USB sticks,
DVD ROM drives, max. output current 1.5 A
Supported codecs: WAV, FLAC, AIFF, ALAC, MP3, AAC,
Ogg Vorbis, WMA, DSD
UPnP and DLNA support
PCM resolution: 44.1 kHz up to 384 kHz, 24bit (WLAN up to 192 kHz)DSD resolution: DSD 64 up to DSD 256 (WLAN up to DSD 128)Gapless playback
Streaming services: TIDAL, Qobuz, Deezer, HighResAudio, SpotifyInternet radio and podcast
Roon Ready
D/A converter
Resolution: 768 kHz/32 bit and DSD 512
Dynamic range: >125 dB
THD & Noise: <0.001 % (@ 0 dB FS)
Master-Clock: Ultra low jitter MEMS Femto ClockRe-Sampling: with 180 dB dynamics and 32 bit resolution, bit-perfect or DSD
Re-sampling jitter damping: >60 dB
Converter architecture: two AK4493 DACs in dual differential mono mode, AK4137 re-sampler
Output voltage: 2.5 V @ 0 dBFS RCA, 5 V @ 0 dBFS XLR
Analog preamp
Inputs: three analog line inputs with 20 kOhms of input impe- dance. Max. input voltage 3.5 V unbalanced. Optional MM input for connecting a turntable (replaces input 1). Connection values MM: 47 kOhms / 150 pF.
Outputs: one balanced and one unbalanced output. The outputs may be used independently. Output impedance: RCA: 100 ohms, XLR: 20 ohms. Max. output voltage: 2.5 V unbalanced, 5 V balanced
TECHNICAL SPECIFICATIONS
Volume level control range: 0 to 99 with the following charakteristic: 0 to 20 in 2 dB steps, 21 to 60 in 1 dB steps, 61 to 99 in 0.5 dB steps.
Balance control: + / – 6 dB in 1 dB steps
Frequency response: 2 – 200 kHz (-3 dB)
Gain: 0 dB / 6 dB / 12 dB switchable
THD & Noise: < 0.001 % @ 2.5 V output
Headphone
Headphone connector: 6.35 mm (1/4") jack socketHeadphone gain: 0 dB / 12 dB switchableRecommended headphone impedance: 16 – 200 ohmsDamping factor of headphone output: >100
Measurement conditions: 22 °C, 230 V mains voltage,
Audio Precision AP2722
Mains connection: 90 – 240 V, 50 – 60 Hz
Power consumption: 0.2 W stand-by, 8 W operation, 18 W max.Dimensions (W x H x D): 280 x 220 x 63 mm (11 x 8.7 x 2.5 in.)Weight: 2.6 kg (5.73 lbs)