Riktigt bra ljud
Streama via BT APTX
Anslut alla källor
Förberett för trådlös laddning av telefon
Förberett för Alexa Home Styrning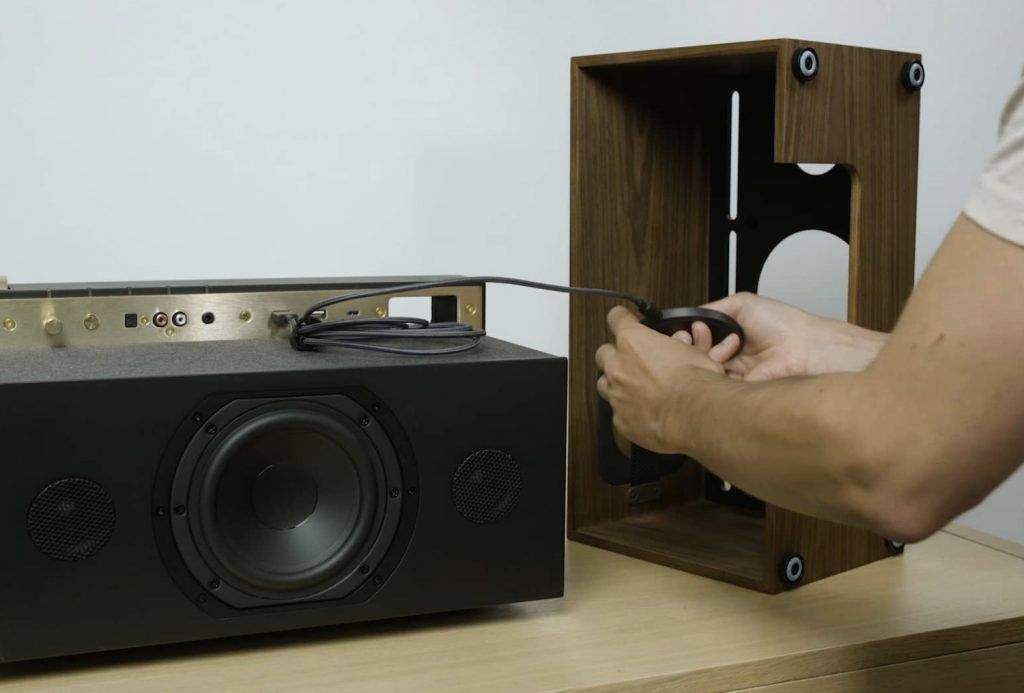 SPEAKER AND MULTIMEDIA STATION
Easy-to-use Sustainable technology with timeless design.
The PR / 01 is a powerful and compact all- in-one speaker, offering all necessary audio connectors for the diversity of your uses and their evolution over time.
COLLABORATION – NATIVE UNION X LA BOITE CONCEPT
"This collaboration between La Boite concept and Native union goes far beyond co-branding: it is a true association of know – how and values around a common conviction: the one that technological performance has value only if it serves to a lifestyle …if it is adapted to everyday use. "
Igor Duc, CEO Native Union.
Developed with all the ergonomic know-how of Native Union, the PR / 01 is an object with sober and minimalist elegance. The PR / 01 high fidelity speaker allows you to hide your induction charger or the USB and USB-C cables allowing you to charge your mobile device (smartphone / tablet) within its drawer for a cable-less experience.
SIMPLICITY, A SINGLE CONTROL BUTTON
An active speaker integrating all available connectivity to listen to your music, no matter which audio source gets your preference.
Ready to use out of the box.
INNOVATION & PATENT, A HIGH FIDELITY ACTIVE SPEAKER
"Until now, a speaker with a compact volume couldn't pretend to respect high fidelity standards. It was physically impossible due to a technological lock. We broke the lock with PR/01."
Timothée Cagniard, CEO La Boite concept
Innovating while respecting the requirements of traditional high fidelity.
Seven years of research lead by the R&D team at La Boite Concept were necessary to achieve the exceptional performance of the PR/01. Reinventing a patent developed in the 70's by the Cagniard family and improving it with the help of innovative digital technologies, La Boite concept managed to create a loudspeaker that follows the acoustic properties of traditional high-fidelity in a compact volume. The new patent named Active Pression Reflex gives its name to PR / 01.
The exceptional quality of the extreme bass frequencies is ensured by the implementation in an airtight chamber of 2 loudspeakers (including 1 internal woofer) which are controlled numerically. This pressure chamber system is calibrated by multiple digital amplifiers. These custom-built amplifiers offer exceptional power and definition especially in the extreme deep bass, all contained within a very compact structure.
BUILT TO LAST, DESIGNED TO LAST A LIFETIME
Crafted from high-end materials.
The PR/01 offers an ultra-rigid frame in plywood covered in natural walnut. The control panel and buttons are made of solid aluminium. Universal connectivity ensures compatibility with existing and future technologies.
SPECIFICATIONS
DIMENSIONS / 41 × 25.6 × 23.7 cm
WEIGHT / 12 kg
TOTAL POWER / 200 W
RMS POWER / 100 W
1 x 5" Woofer à longue excursion situé sous pression hermétiquement à l'intérieur de l'enceinte Technologie : Brevet Active Pression Reflex®
2 x Tweeter à dôme en soie