THE BEST MUSIC EQUIPMENT IN THE WORLD
For the first time, an ultra-dense sound goes through you with a physical impact. 3 000 W, zero distorsion, zero background noise
PHANTOM ABOLISHES ALL YOUR PREVIOUS DEVICES. IN AN INFINITELY BETTER WAY.
Phantom on its own will replace all your stereo systems, speakers, docking stations and home-cinema *.
It overcomes everything in terms of sound quality, thanks to several extraordinary engineering inventions, among which the ADH Intelligence and the Heart Bass Implosion. Exclusive to and created by Devialet's acoustical engineering.
THE NEW CYBERNETIC SOUND
A different sound, the best sound in the world. For the first time, Phantom emits an ultra-dense sound with a physical impact, with never reached before power, clarity and sharpness. For an intense emotional experience. Once you bring it home, Phantom evolves, permanently upgrades itself without requiring your intervention, and reacts to your presence… Is it alive ?
ENJOY
Rediscover the music on your smartphones, tablets and computers, 100% wirelessly connected, by Wi-Fi*, on every platforms* platform and with your CD/DVD/Blu-ray players and your AirPort bases, using the optical input Phantom can play on its own, or with other Phantoms. In a room, or in the entire house. Alone, or with friends. Let there be happiness.
A DIFFERENT SOUND, THE BEST SOUND IN THE WORLD.
For the first time, Phantom emits an ultra dense sound with physical impact, with never reached before power, sharpness and clarity. Even at very loud volumes, Phantom's sound is not subject to any distortion. And if your music contains silence, Phantom does not emit any background noise at all. To obtain this unprecedented performance, it was necessary to create a completely cybernetic system integrating three major engineering inventions.
IN TECHNICAL TERMS, HERE IS WHAT IT SIMPLY MEANS
PHANTOM 3000w, 105dB SPL, 16Hz to 25kHz, 0 DISTORSION, 0 BACKGROUND NOISE, 0 SATURATION
WHY IS PHANTOM REVOLUTIONARY ?
Phantom is unique. It emits sound using a new revolutionary process, according to the absolute rules of acoustical perfection, thanks to technologies invented by Devialet and exclusive to our products
AN INTEGRATED CYBERNETIC INTELLIGENCE
The ADH Intelligence – exclusive to Devialet – is a super powerful microprocessor hybridizing digital and analog technologies, which purifies and magnifies the audio signal. It regulates Phantom's entire mechanical functioning with an absolute precision.
HEART BASS IMPLOSION
Phantom integrates a unique system producing ultra deep sounds by high pressure beating of its lateral wings.
SPHERICAL CONCEPTION
Phantom's spherical conception is the perfect acoustic architecture to ensure an omnidirectional emission, guaranteeing an homogeneous sound no matter the listening angle.
CYBERNETICS GETTING BETTER EVERYDAY
Thanks to the EVO Platform, your system keeps getting better everyday, without even requiring your intervention. Even after setting it up in your home, Phantom permanently upgrades itself for free, makes its internal connexions evolve, connects itself to other Phantoms, reacts to your presence and continually gets better. Because Devialet practically acts against systems' obsolescence… 
ONE PHANTOM OR SEVERAL PHANTOMS?
You choose the number of Phantoms you want. In just a single area, or in your entire house. A single Phantom is extraordinary. With several Phantoms, the experience is simply mind blowing…
ONE PHANTOM
Send it music : you will immediately be blown away.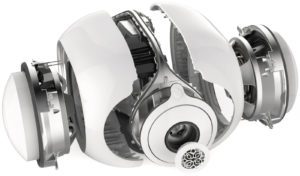 SEVERAL PHANTOMS IN THE SAME AREA
Your Phantoms recognize each other, synchronize themselves, and spatially drastically increase the most intense acoustic experience you have ever had.
SEVERAL PHANTOMS IN THE HOUSE, IN DIFFERENT AREAS
Your Phantoms recognize each other, and you decide on which room you want to listen to music in, on your playlists, on the volume… The ultra-dense sound with physical impact takes over your house.