Beskrivning
Audio and Video
125+125W audio amplifier with auto-limitation
AM/FM Radio
2 RCA audio jacks for external sources
1 RCA audio output for connecting to an external amplification system
1 RCA audio output for connecting to an external subwoofer
1 3.5 millimetre preamp audio jack for headphones
Supply
External power through power supply unit
Standards and interfaces
Project turntable with Ortofon cartridge
Other
Rests on a cart with forged aluminum wheels
Description
Half a century dof uniqueness, told by a smile that stays in time. Created in 1965 by designers Achille and Pier Giacomo Castiglioni, the Radiofonografo is a superb work of modern industrial design, thanks to its incomparable style and sound. Exuding retro charm, along with an incredible sound and the ability to move the sound modules to best suit the surrounding environment, this system creates a listening experience both stimulating and intriguing.
Mobility, dynamism to an object which used to be static in essence. Together with minimalis.tic shape research, the essence of the project, or the "main engineering component" as the Castiglioni loved to define it.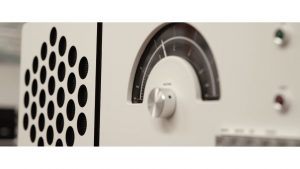 One historical product
The brothers Pier Giacomo and Achille Castiglioni sign the radio-stereo RR126 (1966) from the anthropomorphic form, but that did not give the reference to the technology and will be a status symbol of the decade and one of the 60 most sought after pieces of modern art of the 80s and 90s.
A specific goal of those years was the pursuit of modularity in the design: the design for the RR126 documents this trend.
A "space object" self-supporting so almost floating modular in three different configurations volumes separable.
Designers
Achille e Pier Giacomo Castiglioni
Real institutions, architects Pier Giacomo and Achille Castiglioni are true key figures in the design field, as evidenced by the numerous awards from critics and insiders, who have spent in their favor rivers of praise.
Winner of eight Golden Compass, Achille Castiglioni can claim credit for having drawn design objects appreciated worldwide for famous brands such as Brionvega, Zanotta and Flos.
During his career he has exhibited – among others – at the Museum für Angewandte Kunst in Vienna, at the Hochschule für Künste Bildende Berlin, at the Milan Triennale and the Centre Georges Pompidou in Paris.
Brother Pier Giacomo, defined by Dino Gavina "in the top ten designers in history", was awarded – in between the 50s and 60s – 5 Golden Compasses, obtained for design objects become cult brands like Brionvega, Alessi, Kraft and Zanussi.
Among the major exhibitions remember that at MoMA in New York and at the Triennale Design Museum in Milan.