A perfect balance of technology and design, the sleek contemporary lines of the AT-LP5 turntable grace any room in the home while delivering performance features born out of Audio-Technica's rich analog heritage.
The direct-drive engine provides playback for both 33 1/3rd & 45 RPM records with a cast aluminium platter and thick damping mat housed together in a structure that has been engineered for minimum chassis resonance, while skilfully retaining the discreet look that complements today's listening environments.
The J-shaped tonearm, engineered to minimise tracking error, harks back to the original Audio-Technica designs of the 1960's & 70's complementing the AT-LP5's clean lines and comes fitted with Audio-Technica's lightweight AT-HS10 headshell and the exclusive AT95EX Dual Moving Magnet cartridge.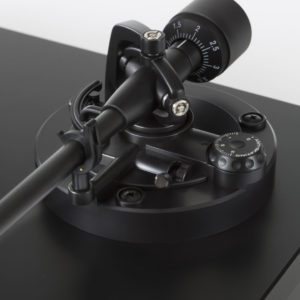 Created specifically for the AT-LP5 turntable, the AT95EX cartridge delivers extended frequency and transient response through new materials selected by Audio-Technica's cartridge experts in Japan.
With great attention paid to the complete analog signal path, subtle features such as the gold-plated u-shaped connections of the headshell, the choice of using both the internal or an external phono pre-amplifier, and a stable high-rated internal mains power supply with enhanced grounding, the audio reproduction credentials of the AT-LP5 are assured… while the looks simply speak for themselves.
Features
Cartridge
AT95EX high performance cartridge, exclusively designed for the AT-LP5, supplied fitted on an AT-HS10 lightweight headshell, the combination perfectly balanced for the turntable's J-shaped tonearm.
Universal Headshell Connector
The tonearm twist-locking mechanism allows quick and easy exchange of any universal (SME) headshell.
Headshell
AT-HS10 lightweight (10 grams) headshell can accommodate most half-inch mount cartridges available on the market due to its wide overhang adjustment range of 10 mm. An overhang adjustment template is provided to assist a competent user in fitting an alternative half-inch mount cartridge.
Tonearm Lift
Hydraulically damped for slow and accurate tone arm descent and lift.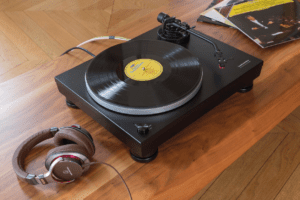 Anti-Skate Control
Applies a small outward force to counteract the natural tendency of a tonearm to move inward as the record rotates.
Adjustable Counterweight
Balances the tonearm and provides adjustment for the correct downward tracking force of the stylus. A tracking force range from 0 to 5 grams is possible with a typical cartridge weight of 7 to 8 grams.
Ergonomic Start/Stop and Speed Selector
Top panel-mounted switch selects play (speed 33 1/3 rpm or 45 rpm) and stop (standby) with LED power indicator (main power switch on rear).
Direct Drive
Direct Drive technology provides stable rotation at 33 1/3rd RPM from start-up in less than 1.7 seconds.
Platter
Die-cast aluminium platter, precision-machined for perfect on-axis, balanced rotation.
Rubber Mat
5 mm thick rubber-compound damping mat for improved low-frequency reproduction.
Anti-Vibration and Damping Materials
Structural design elements include anti-vibration damping materials and heavy-mass metal inserts fitted to the chassis to minimise unwanted resonance, making the AT-LP5 a class-leader in limiting low frequency acoustical feedback.