Beskrivning
Artcoustic has been engineering ground-breaking speakers of unparalleled quality since 1998. Delivering studio quality sound true to its origin, our fully customisable, modular speakers are meticulously crafted by hand and finished to complement any interior setting.
CPH-ATIB
The new CPH-ATiB is a true breakthrough product, which comes with an impressive selection of features, and is only matched by top-end cinema receivers. This digital marvel boasts state-of-the-art sound quality and includes all the latest digital controls, filters, automatic or manual room correction, digital amplification & Bluetooth connectivity. This advanced audio and video controller also houses a powerful 10-inch subwoofer, with impressive output sufficient for small to medium-sized spaces.
Operating Range: 20 Hz to 20 kHz ± 1 dB
Sensitivity: RCA and jack 950 mV. BT / COAX / HDMI 0 dB
Max SPL: 110 dB
Weight: 19 kg
Dimensions: H 450 • W 450 • D 345 mm
Connectivity: Wireless Bluetooth / HDMI / Coaxial / Optical Digital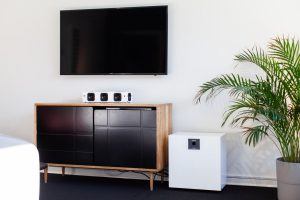 CPH-7
The new CPH-7 Atmos 7-channel speaker, is in many ways the pinnacle of the Artcoustic evolution. Since Artcoustic designed and engineered the first ever LCR Soundbar several decades ago, they have continued to impress the market with new and innovative products, constantly breaking down the barriers between good-looking and superb-sounding loudspeakers.
Operating Range: 70 Hz (-3dB) to 20 kHz
Sensitivity: 107 dB
Max SPL: 116 dB
Weight: 5 kg
Dimensions: H 100 • W 450 • D 150 mm
Introducing the cph-cinema 5.1.2
Revolutionise your movie and music experience with multidimensional sound from the new cph-cinema 5.1.2, by artcoustic.
This new compact 'cinema-in-a-box', consisting of only two products, delivers an impressive & professional Dolby Atmos® 5.1.2 surround sound cinema, offering a sound experience that is dynamic, open, accurate and immersive.
The CPH-Cinema 5.1.2 forms part of the CPH Series – a range of well-thought-out products designed to ensure the utmost functionality for ease of installation & connectivity.
The new compact CPH-Cinema 5.1.2 is a combination of two new breakthrough products from the Artcoustic development team – the CPH-ATiB & CPH-7.